OGDCamp + OKCon = OKFestival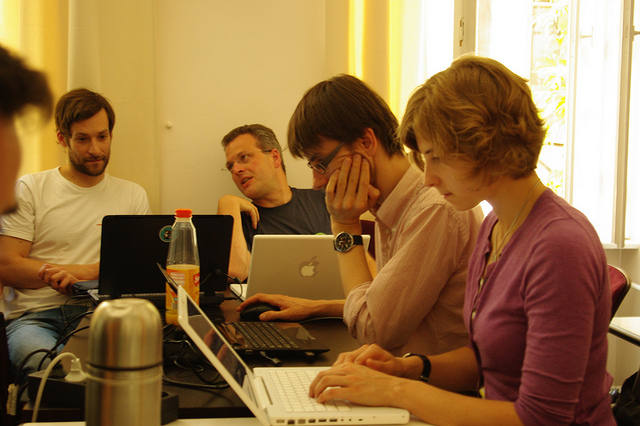 As a part of the Open Knowledge Festival this year in Helsinki, annual events OGDCamp 2012 and OKCon 2012 will be seamlessly combined into the entire week's schedule, allowing both conferences to mature into cohesive, hands-on experiences focused on sharing ideas and building new projects that combine municipal and national data with civic society initiatives from both global and Nordic perspectives.
---
For those interested in Open Government Data…
Want to engage with open government data initiatives and issues on local, national and international scales? We recommend buying either a week-long or day-length ticket for OKFestival's core programming during the week, with the majority of open government-related sessions, workshops, hackathons and lectures happening on Tuesday the 18th of September, Wednesday the 19th of September and Thursday the 20th of September.
Out of the 13 Guest-Planned Topic Streams, we recommend engaging with programming in the Government Transparency & Accountability stream, which includes several Open Government Partnership sessions and skills-sharing workshops amongst various nations around the world. We also believe you will find the Topic Streams on Open Democracy & Citizen Movements and Open Cities of special interest, as well as the festival's increasingly diverse set of Featured Speakers. Sessions such as "Open Data for Measuring Social Progress" (Openness and Sustainability Topic Stream) and "Technologies for Open Development" (Open Development Topic Stream) will further augment existing government-focused narratives in new ways.
Lastly, our Guest Programme Planners are in the process of organising sessions on the EU Citizens Initiative as well as hackathons on Data Driven Journalism, OpenSpending, CKAN and other toolsets which combine open government with visualisations, online apps, and offline projects and tools that engage users with datasets in new ways.
---
For those interested in Open Knowledge…
Want to learn more about the field of 'open knowledge' in all its diversity? We recommend taking a sampling of the 13 Guest-Planned Topic Streams which make up the core programming of OKFestival.
With sessions ranging from "Open Cultural Heritage in Finland" (Topic Stream on Open Cultural Heritage) to "Open Knowledge for Seeds and Bioinformation" (Topic Stream on Openness and Sustainability) to "Open Design and Hardware in the Context of Intellectual Property Legislation" (Topic Stream on Open Design, Hardware, Manufacturing & Making) to "Open Development and Aid Flow" (Topic Stream on Open Development) to "Open Peer Learning" (Topic Stream on Open Research & Education), our Core Organising Team and Guest Programme Planners are working hard to ensure there will be activities of interest no matter what your background or experience level happens to be.
For those who want a more in-depth, participatory experience focused on meeting new contacts, building new skills and working with innovative ideas and tools, we also recommend hackathons such as the Green Hackathon co-organised with the Openness and Sustainability Topic Stream, hands-on design, hardware and fabrication workshops at the first FABLab in Finland, the Open Development Hackathon, an interactive workshop about the role of women in Wikipedia editing as well as an increasing array of satellite events, evening receptions and city crawls focused on highlighting the diversity of organisations and ideas related to openness in Finland.