Open Culture and Science Hackday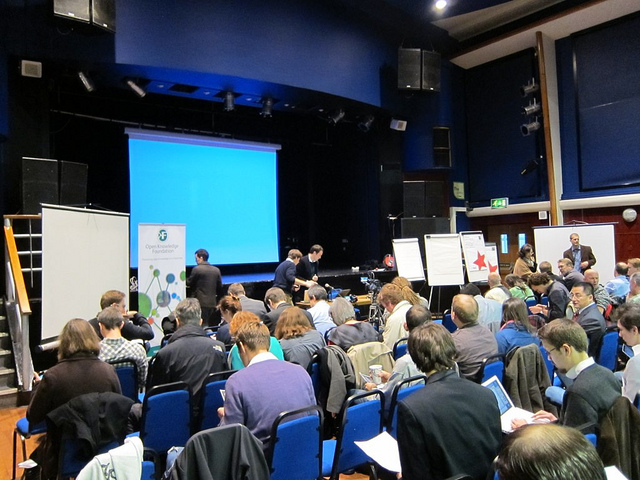 At the OKFestival in Helsinki next month, the Open Heritage and Open Science streams will be kicking off their three days of activities with a joint hackday dedicated to working with and building things with open cultural and scientific data. The day will involve a Wikipedia edit-a-thon, a digital humanities coding sprint working with tools such as TEXTUS, Pundit, and any other new tools people feel inclined to create, the opportunity to work with recently opened datasets from Finnish cultural heritage institutions and the Europeana API – and much more! Hackers will also have the chance to develop applications for the new PyBossa crowdsourcing platform, to hack for Louhos research software libraries and to contribute to the developing plans for a Hybrid Publishing Lab. Alternatively, join in with a variety of mini-projects related to open science, citizen science and open cultural heritage – if you have an activity suitable for a hackday, feel free to bring it along!
This event is open to coders and non-coders alike, so people with all levels of technical proficiency are welcome. Below you can find some more practical information and some more details about the different thing we are going to work with. Excited already? Then click here to sign up right away as places are limited.

IMPORTANT: as places are limited it is absolutely necessary to sign up in advance! Please use the form below to secure your place!
Practical Details

- When: Tuesday 18th September 2012, 11:30am until end of hacking!
- Where: MAKE Space, Aalto University
- Who: Programmers, Developers, Designers, Digital Humanists, Scientists, Researchers and everybody else with an interest in culture and/or science
- Costs: Free to attend. (NB: If you wish to attend other OKFest sessions, you will need to purchase an OKFest pass
- What you need to bring: A laptop and lots of enthusiasm!
- How to register: Please use this form
Activities
1. Cultural Data Hack
Prominent European cultural heritage institutions have agreed to open up specific datasets for use at this hackday.
The Central Art Archives opens a dataset consisting of glass-plate negatives photographed by Daniel Nyblin (1856-1923), and their descriptive data. The set features black and white reproductions of artworks by Nyblin's contemporary Finnish artists. The files have been photographed from the original glass-plate negatives.
The team at Europeana have also agreed to making all of their content available as Linked Open Data, making use of Europeana's new Data Exchange Agreement that secures all metadata within Europeana under a Creative Commons Zero (CC0) waiver. For a bit of inspiration what can be done with these datasets you can have a look at what was created at previous Europeana hackathons
OpenCultuurData is a Dutch initiative that opens cultural data and encourages the development of valuable cultural applications. They have released several different datasets already and currently run an app-competition until the end of this year. This means that developers who make use of one of these datasets have a chance to win great prizes up to € 3.000! For more info about this competition click here
Other datasets from contributing institutions include:
Many more to come!
2. Edit-a-thon

Wikimedia Finland is a local chapter in the global Wikimedia network. One of their goals is to involve experts to improve Wikipedia, as well as engaging galleries, libraries, archives and museums through GLAM programs. In the Culture Hack Day Wikimedia Finland organizes an edit-a-thon, including some demonstrations of their current projects (e.g. GLAM Atheneum) and sharing practical advice on wiki culture, as well as discussions on how to improve it.
In an edit-a-thon, a group of people come together at a specified time to edit Wikipedia together, usually around a particular topic. In our cultural heritage edit-a-thon a group of participants will collaborate to gather and record cultural heritage information for the Wikipedia. The focus will be mainly on Finnish Wikipedia articles, but many of the openly licensed objects that will be made available during this day, can also be used in Wikipedia for other languages.

3. Open Humanities Hack

The Open Humanities hack will be all about building open source tools for working with open content and open data for use within humanities teaching and research. Leading developers from the emerging "Digital Humanities" domain will join forces to build upon existing tools and forge entirely new creations. Tools that people have already expressed an interest in working on include:
4. Open Video Make Session

The Open Video Make Session focuses on open video as a rich resource for creative reinterpretation. Cultural heritage institutions are opening their archives and providing access to various audiovisual content and data online. Recent technical developments also make it easier to mix video with other types of content (see e.g. Popcorn). However, it is still rather complex to take video to the next level beyond traditional remixing, making use of video metadata, open data, and temporal and spatial video characteristics. In order to tackle this challenge, and to promote new uses for archival materials, we aim to open up video as an exploratory medium for a broader audience of potential makers. During the session, invited experts from different fields work with open video content and data, stretching the notion of video to discover novel ways for creative re-use. The outcomes of the session will be published later online in the form of mini tutorials to facilitate further explorations with video.
All are welcome to join the session! If you have further questions, please email Sanna Marttila / sanna.marttila [@] aalto.fi
5. PyBOSSA
PyBossa is an open source platform for crowd-sourcing online (volunteer) assistance to perform tasks that require human cognition, knowledge or intelligence (e.g. image classification, transcription, information location etc). PyBossa is being developed for a variety of scientific applications by the Open Knowledge Foundation, the Citizen Cyberscience Centre and several academic partners. Applications range from monitoring deforestation via satellite images to assessing melanoma risk from images of skin lesions, and can even be used for human-assisted digitization of historical documents.
During the Cultural Heritage and Science hackday, you're welcome to come and develop your own application with PyBossa, or contribute to an existing project that interests you. PyBossa's main developers will be on hand to advise and assist. It should be possible to put together a new application in a day, so come along and have a go!
6. Research-oriented software libraries for open data ('Louhos hack')

New analysis tools are needed to take full advantage of the new open government data resources in academic research. Solutions can be borrowed from other data-intensive research fields, such as computational biology and economics, where on-line discussion forums and dedicated software libraries have already revolutionized international collaboration and research output. Louhos is a community-driven effort to develop flexible, research-oriented software libraries for open data. The project is coordinated through GitHub, and it provides general-purpose tools to fetch and analyze open government data streams, customized to local standards and needs. We welcome the community to join the effort in this hackathon to extend these tools and discuss the need for open data analytics in academic context.
We also have some more hack ideas bubbling in the pipeline, so keep an eye on the Culture and Science Hackday page for breaking news and latest developments! If you have a project that you would like to bring along to the hackday, please contact educationandresearch [@] okfestival.org or openheritage [@] okfestival.org