OKFest 2012 Tickets (Sold Out!)
---
NEWS AS OF SEPT 14: All tickets (day and week) for OKFestival 2012 are NOW SOLD OUT! OKFestival's main days are Tues 18th, Wed 19th, Thurs 20th and Fri the 21st of Sept. There were two choices for ticket registration: day and week tickets, which entitle participants to attend all scheduled programming as well as all the satellite events throughout the week. For registered participants, we also offer lunch vouchers at a discounted 8EUR/ticket.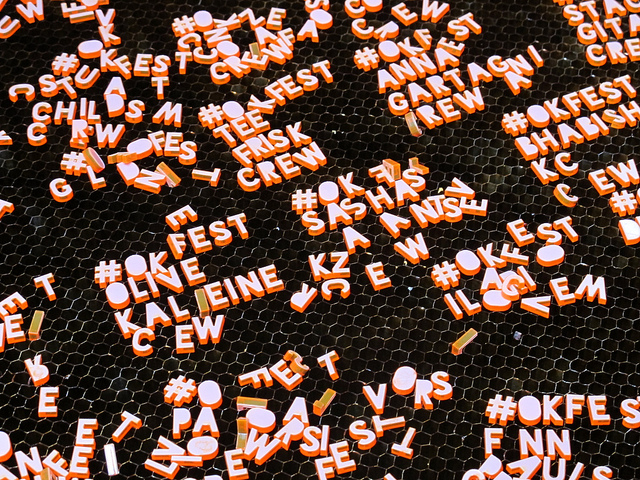 Image of OKFest nametag-making thanks to the makers at Aalto Media Factory + FABLab.
---
Who Had to Buy a Ticket?
Despite being a low-budget, community-organised and volunteer-run event, this year we've all worked quite hard to keep the price of day/week tickets and lunch vouchers very low compared to similar tech-focused events, and to provide Travel Bursaries and free week-long volunteer tickets whenever we get extra funds. Profits for this event will go to the production of future open knowledge events and the enrichment of the Finnish open data ecosystem that helped make this event happen.
As a result, we have asked that everyone (this includes speakers, travel bursary recipients and students) buy a ticket to attend OKFestival 2012. Currently, only the costs of the Organising Team and Keynote Speakers have been covered: Core Organisers, Guest and Programme Planners and Advisory Board members.
If you're a Guest Programme Planner and have gotten external funding for your Topic Stream, we recommend using it to pay your delegates' fees (travel, ticket etc) where you can. If we all pitch in, we're hope to ensure that everyone who wants to come can join us this fall. Community events of this kind (see Chaos Camp's Tickets Page for an example of similarly-run organisation) require a lot of help, volunteer time and late-night work from everyone involved, and we thank you for your understanding about this, and for your passion which is making it all possible in the first place!
---
Can't Afford Your Ticket?
Given this, we understand that at times, the financial burden for these types of events can be overwhelming. Given this, we released 3 different rounds of international travel bursaries and recommended applying for the #OKFestCrew Scheme, which offered free tickets to those who join the festival's Volunteer Team and helped out during the week.
---
Notes about Ticket Purchase
Note 1: We recommended that you buy your ticket above as soon as possible. You were able to pay with Visa(Credit/Debit), Visa Electron, Mastercard(Credit/Debit), most Finnish online paying systems or Finnish bank transfer. Once purchased, there are no cancellations allowed.
Note 2: There are also many free hackathons, workshops and other satellite events that are free of charge and do not require an OKFestival ticket.