Written by agryfp on May 27, 2009.
CALL FOR PROPOSALS (Deadline: June 8, 2009)
Symposium for ART AND RENEWABLE TECHNOLOGIES
August 13-16 in Aizpute (Latvia)
The 4-day symposium gathering together artists, activists, technologists, scientists and researchers, to share their ideas and explorations which deal with renewable energy resources, alternative ecological use of technologies, and other sustainability related issues.
http://rixc.lv/projects/energy/renewable/
Comments (0)
Written by Juhuu on May 26, 2009.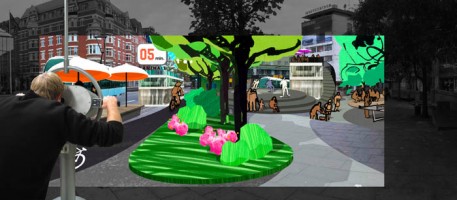 Photo: Parascope / Unsworn Industries

Pixelache and Helsingin Energia have invited an international group of artists to propose public artworks related to energy consumption. Among the invited artists are Unsworn Industries (Erik Sandelin & Magnus Torstensson), Miska Knapek, Andy Best and Maria Duncker.
The artists' proposals will be made public in October 2009 and selected artworks will be realised during 2010.
Comments (0)
Written by Juhuu on May 21, 2009.
Please get in touch with us if you would to propose a programme section for Pixelache 2010!
We are looking for people (or groups/organisations/collectives) who would like to be involved in planning and realising Pixelache 2010 festival. Please send an informal description of yourself and your ideas to programme2010 [[at]] pixelache.ac.
Please get in touch with us soon, since we are hoping to gather the main programme team already during June 2009.
Pixelache Helsinki will be held in March or April 2010 (the exact date will be announced soon).
Another call for artworks and projects will be sent out in Autumn 2009.
Comments (0)
Written by nathalie on May 20, 2009.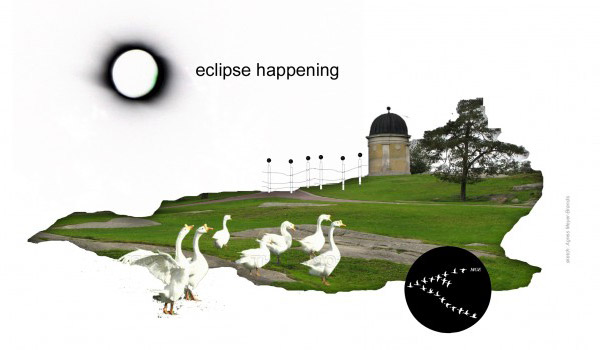 Welcome to the "Eclipse Happening", "finissage" event of the "Expedition to the Total Eclipse" exhibition on view at Kiasma Mediatheque until June 7th, and of the Pixelache season before the summer break.      It consists of presentations and a workshop in Kiasma Theatre, and of an urban expedition, culminating in the evening with an event in Kaivopuisto around the URSA observatory.
Key words: Siberia, astronomy, eclipses, space traveling, geese, moon walk, weightlessness.
Preliminary programme:
- 15.00 - 16.00: Presentations focusing on eclipses & space traveling, by Professor Tapio Markkanen (Observatory of the University of Helsinki) & artist Agnes Meyer-Brandis (DE) / Kiasma Theatre
- 16.00 - 17.00: Moon Walk workshop for humans & moon geese with leading moon walker Milla Koistinen / Kiasma Theatre
- 17.00 - 18.30: Urban Expedition / from Kiasma to URSA observatory in Kaivopuisto
- 18.30 - 22.00: Happy Eclipse gathering with Russian snacks and music, moonwalking, telescope observations (only until 21.00), video projections in URSA's portable planetarium / URSA observatory in Kaivopuisto
All the events of the Eclipse Happening are free of charge.
The number of places for the moon walk workshop is limited. If you want to participate, please send an email before June 2 to moonwalk@pixelache.ac.
The Eclipse Happening is organised by Capsula and Pixelache
With kind support of : Opetusministeriö, Goethe Institut, HIAP, URSA, Kiasma Theatre.
Comments (0)
Written by Juhuu on May 15, 2009.
I was invited to be the curator for this year's MoA09 - Masters of Arts exhibition of University of Art and Design Helsinki. Below you can find some photos from the exhibition that opened a couple of days ago.
MoA09 also features plenty of events, Pixelache crowd might want to check out at least the Emperor's New Clothes theme day (Saturday 16 May) featuring John Thackara / Doors of Perception and MoA PLAY theme day (Wednesday 20 May).
Comments (0)
Written by agryfp on May 10, 2009.
Following their first meeting in the 'Alternative Economy Cultures' seminar at Pixelache Helsinki festival, Michel Bauwens and Michael Albert have engaged in an online exchange/debate, hosted on ZNet.
Read more here: http://www.zcommunications.org/znet/zdebatealbbauwens.htm
The debate is text-based, has been ongoing since last month, until the end of May.
Some of the debate has also filtered onto [p2research] mailing list, where other P2P researchers are likewise exposed to Albert's Parecon theories.
Comments (0)
Written by Juhuu on May 7, 2009.
Here are some notes from Digital Craftsmanship discussion that took place at Pixelache09:
- thinking with your hands
- digital media cookbooks and recipies
- how to get different people to share same focus, taking steps in the areas where they are not comfortable
- contributing back to the community of teachers
- cross-over artists and designers, enough skills to 99% of things needed
- allow non-specialists to enter, make technology itself culturally diverse
- building spaces for learning that reflect the culture that we have online
The discussion involved people from UdK Berlin, Culture Lab Newcastle, Taik Media Lab, Konstfack Stockholm, Kitchen Budapest and others. It was evident that digital craftsmanship is difficult to compare with traditional master-apprentice relationship. It seems to be more about a specific approach (or one could even say attitude) to working with digital media. All the basic building blocks (physical parts, hardware, software) are kept open for modifying and one should have enough skills and confidence to work on all different aspects of the project. A key for successful learning and developement is to be connected to a network of peers and knowledge / resources that can be shared.
MIT's Leonardo Journal recently published an article that is very relevant for this discussion. I quote here an email from Jon Ippolito, one of the authors of the paper:
MIT Publishes U-Me's "New Criteria for New Media"
Academia's goal may be the free exchange of ideas, but up to now many universities have been wary-if not downright dismissive-of their professors using the Internet and other digital media to supercharge that exchange, especially in the arts and humanities. Peer review committees are supposed to assess a researcher's standing in the field, but to date most have ignored reputations established by blogging, publishing DVDs, or contributing to email lists.
In a signal that some universities are warming to digital scholarship, however, the winter 2009 issue of MIT's Leonardo magazine-itself a traditional peer review journal, though known for experimenting with networked media-has published a feature on the changing criteria for excellence in the Internet age. To make its point as concretely as possible, the feature includes the recently approved promotion and tenure guidelines of the University of Maine's New Media Department, together with an argument for expanding recognition entitled "New Criteria for New Media."
Rather than throw time-honored benchmarks for excellence out the window, "New Criteria for New Media" tries to extend them into the 21st century. To supplement the "closed" peer review process familiar from traditional journals, U-Me's criteria recognize the value of the "open peer review" employed in recognition metrics such as ThoughtMesh and The Pool. As the name suggests, open peer review allows contributions from any community member rather than a group of experts, and all reviews are public; when combined with an appropriate recognition metric, the result is much faster evaluations than possible via the customary approach. "New Criteria for New Media" also urges academic reviews to reward collaboration in new media research; valuable roles include conceptual architect, designer, engineer, or even matchmaker (e.g., introducing two other researchers whose collaboration results in a publication).
Because the University of Maine hopes other institutions will adopt these criteria and adapt them to their own needs, it is releasing them under a Creative Commons (CC-by) license. (Due to a misprint by MIT Press, the Leonardo article highlights the authors' copyrights rather than the CC license; it's surprisingly hard to give things away in a print economy!) The new criteria have already been sought after by individual tenure candidates and cited in the Chronicle of Higher Education. You can find them in Leonardo's winter 2009 issue (vol. 42 no. 1) or online at these links:
"New Criteria for New Media" (white paper)
http://newmedia.umaine.edu/interarchive/new_criteria_for_new_media.html

"Promotion and Tenure Guidelines" (sample redefined criteria)
http://newmedia.umaine.edu/interarchive/promotion_tenure_redefinitions.html

For more information, please email me or the Still Water lab at the
University of Maine (http://newmedia.umaine.edu/stillwater/)
Comments (0)
Written by Juhuu on May 2, 2009.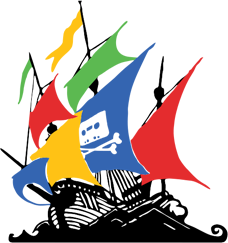 http://www.thepirategoogle.com
Comments (0)