Written by nathalie on February 26, 2009.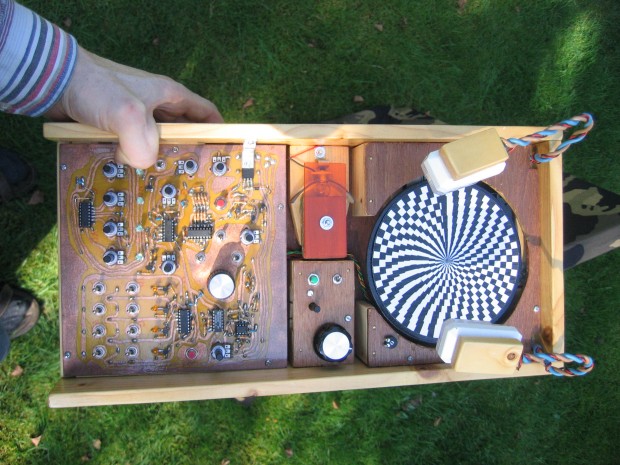 Self-made instrument by Gijs Gieskes (NL)

Audiovisual Hacking is one of the themes of this year's Pixelache. It explores the potential of creating images/light/visuals/pixels and other blinking, sparkling and twinkling things from electronic junk, discarded toys and cheap components.
The Audiovisual Hacking workshop taking place this Saturday 28.2 at the Association of Experimental Electronics' headquarters is now fully booked. But no worries, Antti Ahonen and Tuomo Tammenpää are planning more bending and hacking action for the Pixelache festival week, including workshops and other surprises. Among the surprises is the participation of Gijs Gieskes, our special guest from the Netherlands.
More info about the Audiovisual Hacking programme coming soon. Stay tuned!
>> Association for Experimental Electronics: www.koelse.org
>> Tuomo Tammenpää: www.misusage.org
>> Gijs Gieskes: www.gieskes.nl
Comments (0)
Written by Juhuu on February 23, 2009.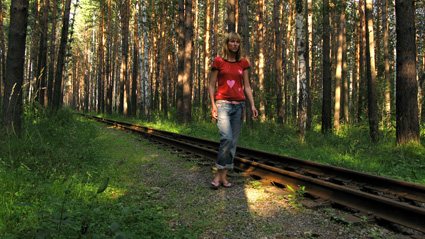 Photo: Ulla Taipale wandering in a forest by the Novosibirsk Zoo
Regine from we-make-money-not-art did an extensive interview with Ulla Taipale, about the activities of Capsula and their Expedition to the Total Eclipse project. The exhibition will open next week (Friday 6 March at 6 pm), hope to see you there!
Quote from the interview: "A scientist follows his/hers paths of research and an artist his/hers, and both can achieve surprising findings in the same object of investigation. In the end, Curated Expeditions is not trying to gain results that would have scientific importance. The objective is to bring together artists and scientists to work at the intersection of different disciplines, but the results are artworks and don't have to contribute to scientific studies about natural phenomena. What I would like them to contribute is to the recognition of small and big miracles of nature and consciousness about its extraordinariness."
>> WMMNA interview
>> Expedition to the Total Eclipse
Comments (1)
Written by Juhuu on February 15, 2009.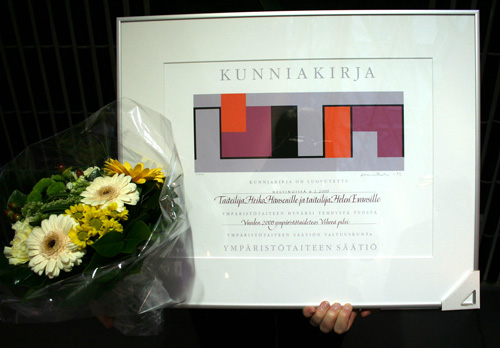 Ympäristötaiteen säätiö (Environmental Art Foundation) has chosen Nuage Vert and Maailman onnellisin puu (The World's Happiest Tree) by Kaija Papu and Aino Louhi as the environmental artworks of the year 2008. The annual award has been given out since year 1994 with the purpose to highlight new methods and concepts in environmental art, to increase general knowledge about environmental art and to support and thank the people and organisations who are developing the field.
In connection with the award ceremony, Helsingin Energia announced that they will release more real-time data about energy consumption in Helsinki area. Since Friday 6 February 2009, the hourly updated information about electricity consumption, heating and cooling has been available online. Inspired by the success of Nuage Vert project, Helsingin Energia is the first energy company in Finland to release this amount of detailed real-time information. This level of information transparency about energy consumption is also rare amongst energy companies in the world today. Helsingin Energia sees this as one method to spread awareness about the need to decrease energy use in near future. This is necessary for reaching the goal of providing a larger share of the total energy use by using renevable energy sources. The energy policies of the City of Helsinki aim to increase the share of renewable energy to 20% by 2020.
The next edition of Pixelache festival (2-5 April 2009) will bring this topic into discussion. The goal is to find artists and designers that could propose ideas of how energy consumption data could be utilized in artworks in the public space of Helsinki or in online applications. Beyond mere information illustrations, the purpose is to try to find non-conventional ways to use this information and to explore how we could go futher from the current 'energy talk' to concrete action. Pixelache festival will also gather ideas and proposals from general audience.
Ympäristötaiteen säätiö (Environmental Art Foundation, website in Finnish): www.yts.fi
Draft version of real-time information about Helsinki area energy consumption: www.helen.fi/slj/energiahankinta
Energianeuvoja (advice about energy consumption, in Finnish) : www.energianeuvoja.fi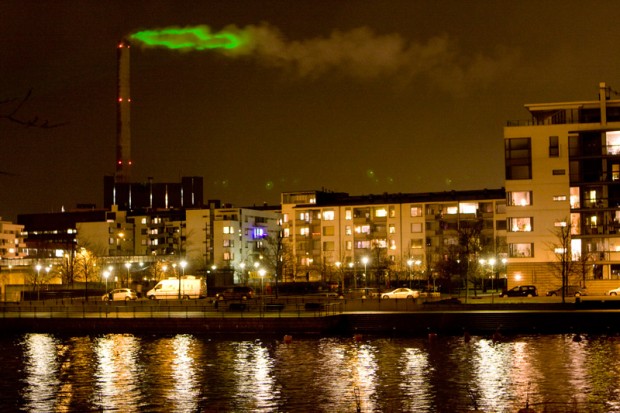 Comments (0)
Written by Juhuu on .

Pixelache and AV Festival have started talking about possible collaboration in 2010. The next AV Festival is scheduled for March 2010. See the first call for proposals below.
- - - - - -
CALL FOR PROPOSALS
AVISON LIVE: Audio-visual artwork commission
Avison Ensemble and AV Festival, in partnership with culture10, seek to commission a major new audio visual artwork by a leading contemporary artist that celebrates 18th Century North East composer Charles Avison and his musical heritage by reinterpreting his traditional music for 21st Century audiences.
The commission forms a central part of the Avison tercentenary celebrations in 2009 and will be featured as part of a large scale public event in Newcastle City Centre, including live music by the renowned Avison Ensemble in September 2009 and a potential tour beyond.
Experienced and established artists or artist groups are invited to submit proposals to develop a new audio visual work that responds to the music of Charles Avison, the unique environment of Newcastle City Centre and attracts new audiences for classical music and contemporary electronic art.
Comments (0)
Written by Juhuu on February 8, 2009.
The theme of this year's Transmediale Festival was DEEP NORTH, dealing with 'intense fragility and inherent instability of human interaction with global systems'. Surprisingly many works in the exhibition approached the theme very literally (ie. images and sounds of melting icebergs) but fortunately the Transmediale Salon discussions took more diverse approaches and were again my favourite part of Transmediale.
One of the topics under discussion was coltan mining in Congo. This precious metal (also known as tantalum) is today used in a wide range of consumer electronics - mobile phones, laptop computers, digital cameras, game consoles, etc. Most of the world's coltan resources are found in Congo and are currently being mined in areas where a confusing war in being fought. Some claim that the war is an ethnic one, some say that it's a conflict between fighting local gangs and warlords, some are accusing multi-national corporations for supporting the armed confict. What is certain is that millions of people have died, which makes this war the largest massacre after World War II. It's also clear that for a reason or another, the international media has almost completely ignored this conflict.
Comments (0)
Written by Juhuu on February 7, 2009.
Photos by Tuomo Tammenpää
During the three days that our brave Cotton Candy experimentation team spent enclosed in a small room in Collegium Hungaricum Berlin, we learned quite a few things:
- Cotton candy is a challenging material to work with. The temperature has just high enough for the sugar to melt but low enough for the plastic candy machine itself not to melt. If one wants to use color effects, these need to be applied beforehand - once sugar is reached its fluffy and flying cotton candy form, it's very difficult to apply any extra effects to it. Refilling the machines on the fly (when they are hot and rotating sugar at high speed) was also not a very easy thing to figure out.
- Cotton candy is great material for art about environmental issues - it's made of pure white sugar that gives us pure solid energy to burn. Very efficient and very unhealthy. The sugar we bought in Germany said 'Made in Germany' in the package while it's obvious that it has been grown by some low-wage workers in Africa or South-America. Eating cotton candy is also a ritual, a ceremony associated with places such as circuses or fun fairs -  places that have been designed for the kids to have fun and for the parents to… pretend to have fun?
Comments (3)