Written by Juhuu on March 31, 2009.
Here is your guide to Pixelache Helsinki 2009:
www.pixelache.ac/2009/PixelAche2009_brochure_web.pdf
Comments (0)
Written by Juhuu on .
We have invited the mikroPaliskunta project to make an intervention (probably happening in the form of blog postings) to Pixelache09 from their trip to Canary Islands, taking place 3-10 April 2009. Stay tuned for more information!
Website: mikropaliskunta.net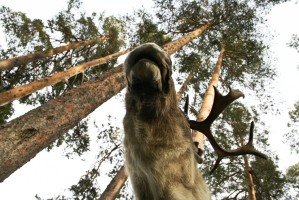 Photo: Stuffed reindeer Paavo, the travel companion of mikroPaliskunta in 2006

Comments (0)
Written by Juhuu on .
We are happy to confirm one last minute addition to Pixelache09 programme - Scott Goodstein (US) will give a presentation in Pixelache Open Forum on Saturday 4 April, 14:00.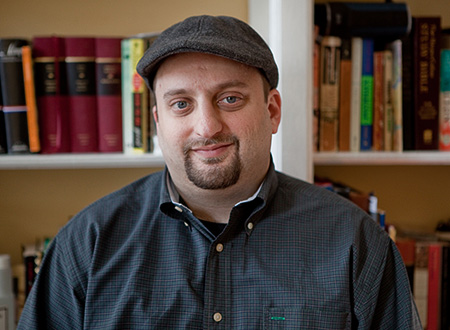 Scott Goodstein (photo: Arun Chaudhary)
Scott Goodstein was External Online Director for Obama for America, and created the campaign's social networking strategy. His pioneering work included running the first political campaign to launch niche based social networks on BlackPlanet, Eons, MiGente, AsianAve, Disaboom, etc. Under his leadership, the campaign achieved over two million friends on Facebook, one million friends on MySpace, 500,000 friends on BlackPlanet, and over 100,000 friends on Twitter.  Goodstein also developed the campaign's lifestyle marketing strategy and "street team" materials used in battleground states.
Goodstein created and implemented Obama Mobile, an advanced communication strategy that included text messaging, downloads, interactive voice response communication, a mobile web site (WAP), and even an iPhone application.  Prior to his work at Obama for America, Goodstein was founder of Catalyst Campaigns, a public relations firm that specialized in lifestyle marketing and online organizing. In 2004, Goodstein co-founded Punkvoter.com & Rock Against Bush and evolved these organizations into becoming a $4 million young voter mobilization effort. Goodstein lives in Washington, DC where he runs Revolution Messaging, a firm that specializes in social networking and mobile messaging.
Scott Goodstein is visiting Helsinki as a guest of My Helsinki project.
Comments (2)
Written by Juhuu on .
Last week photos from Tools for the end of the world by Geraldine Juárez (Mexico) were projected on the window of Pixelache09 temporary venue in Lasipalatsi.
The work is a part of Pixelache09 Signals from the South exhibition in MUU Gallery, on view until Sunday 5 April.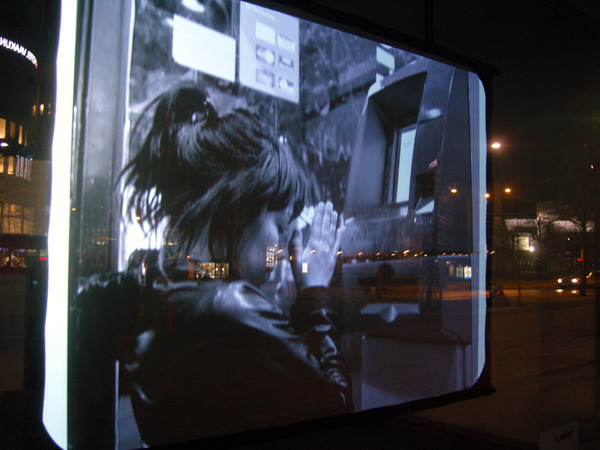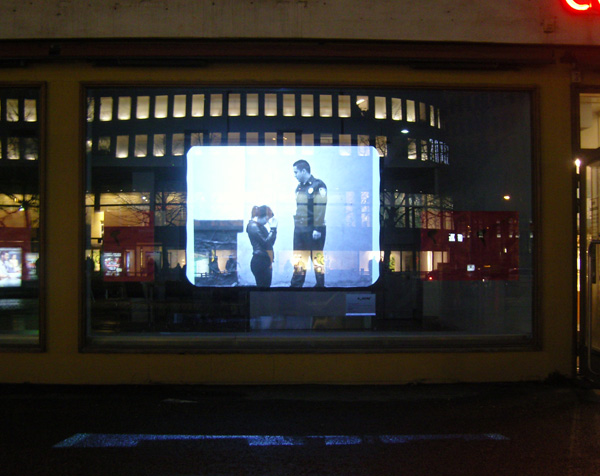 Comments (0)
Written by Juhuu on March 29, 2009.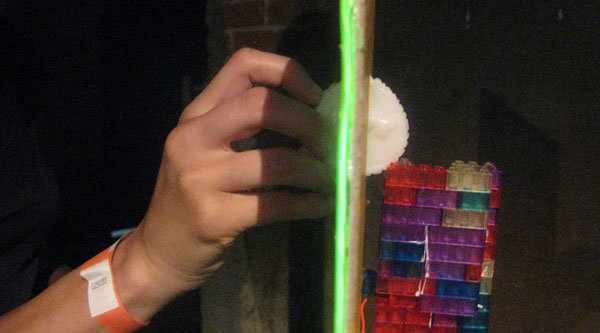 Photo: Geraldine Juarez / 'Tanda Foundation' installation
The organisers of Alternative Economy Cultures programme are collecting voluntary donations to support the realisation of the seminar. Please participate in this peer-funding experiment.
DONATE ONLINE! (suorita maksu suomeksi)
There will also be a Piñata, specially-made by Geraldine Juárez of Tanda Foundation (Mexico),
placed at the Kiasma Theatre entrance to gather offline donations.
Also remember to sign up soon to the seminar, to guarantee a seat!
Comments (0)
Written by Juhuu on March 28, 2009.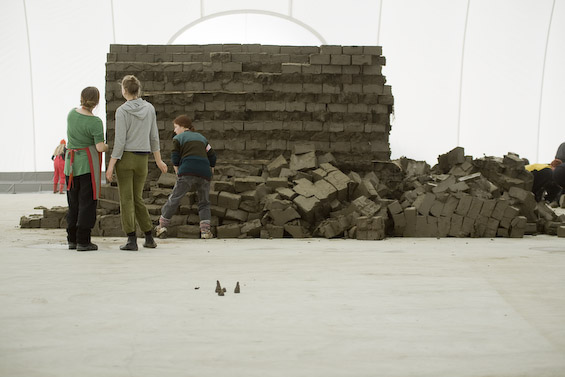 IHME project 2009: Antony Gormley, Clay and the Collective Body. Copyright 2009 Antony Gormley. Photo : Kai Widell
Pixelache09 weekend will be very busy in Helsinki - for some reason a great number of event organisers have decided to make their events happen on this very same weekend.
One event that might be interesting Pixelache participants is the first edition of IHME days. The main attraction of the event is Clay and the Collective Body artwork by Antony Gormley, which gives audience a chance to build things from 160,000 kilograms of clay.
The IHME days seminars (free entry, some in English) take place in Vanha Ylioppilastalo very close to Kiasma on Sat 4 April + Sun 5 April.
More information: www.ihmeproductions.fi/en.php?k=16244
Comments (0)
Written by Juhuu on .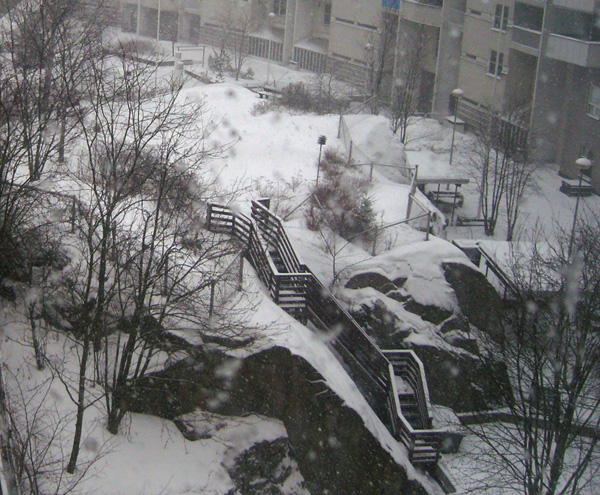 15 cm more snow just arrived in Helsinki! It might all melt away during the next days, but it's probably a good idea to bring some warm clothes and shoes to survive in snow / slush…
Comments (0)
Written by Juhuu on March 26, 2009.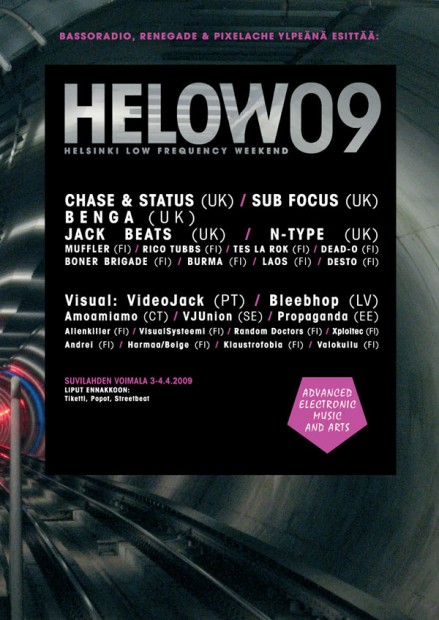 Pixelache is this year collaborating with VJ Finland, Basso, Renegade to organise HELOW09, a festival of electronic music and VJ culture. 15 VJ groups from six different countries arrive in Helsinki to perform during the weekend in HELOW 2009 -event in Voimala, Suvilahti.
Notice - You need to get a separate ticket for HELOW09 - Pixelache09 festival pass will not give you access to HELOW09!!
-> More information (and even more in Finnish on VJ Finland site)
Comments (0)
Written by Juhuu on March 22, 2009.
Venue: Lasipalatsi / 'Spaceship Earth'
Time: Thursday 2 April, 13:00-17:00

Pachube is a web service that enables people to tag and share real time sensor data from objects, devices and spaces around the world. Pachube is a little like YouTube, except that, rather than sharing videos, Pachube enables people to monitor and share real time environmental data from sensors that are connected to the internet. Pachube acts between environments, able both to capture input data (from remote sensors) and serve output data (to remote actuators). Apart from being used in physical environments, it also enables people to embed this data in web-pages, in effect to "blog" sensor data.
The workshop hosted by Christopher Burman (UK) will consist on an introduction to Pachube showing sample projects and demonstrating how Pachube.com has been used by designers, makers, artists, architects and government agencies.
The workshop will cover setting up a pachube feed, sending and receiving data to Pachube using Processing, with an overview of EEML (one of the protocols on which Pachube runs) and then onto creating Pachube enabled Arduino sensors and actuators. After the initial introduction the group will be encouraged to work in small groups to produce some working projects using live pachube data feeds and discussing further methods of connecting to Pachube, including Ruby, Python, Ethernet Arduino and Google SketchUp.
The aim of the workshop is to create a number of working examples using real-time climate and energy data to investigate what designing the control centre for Spaceship Earth might involve. One example case in the workshop will be the energy consumption data from Helsingin Energia (more information).
Alongside electronics projects participants can learn how to share their own collected data online, through blogs, twitter and virtual environments like Second life.
Participants are encouraged to bring any computer and electronic equipment that might be relevant to the workshop. Every participant will be invited to join the on-going beta test of Pachube.com. Invitations can be obtained in advance by emailing pachube09 ((at)) pixelache.ac.
Please sign up to workshop by sending an email to pachube09 ((at)) pixelache.ac. Please include your name, email, phone number and a short text about why you would like to participate to the workshop.
Christopher Burman, UK:
Christopher Burman is currently a developer at Pachube.com. Since graduating in Architecture from the Bartlett School of Architecture he has worked with Usman Haque (founder of Pachube.com and Haque Design + Research) on interactive installations and developing plug-ins for pachube.com as well as on-going research into virtual environments.
Pachube resources:
Website: www.pachube.com
API documentation: http://community.pachube.com/?q=node/127
EEML (XML) library for processing: http://www.eeml.org/library/
Arduino tutorials: http://community.pachube.com/?q=node/11
Tutorials for Python, Ruby, Second Life, etc. etc.: http://community.pachube.com/?q=node/9
Comments (0)
Written by Juhuu on March 13, 2009.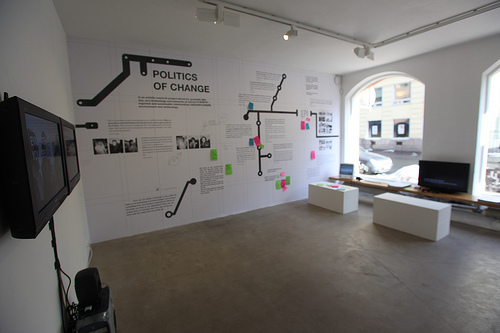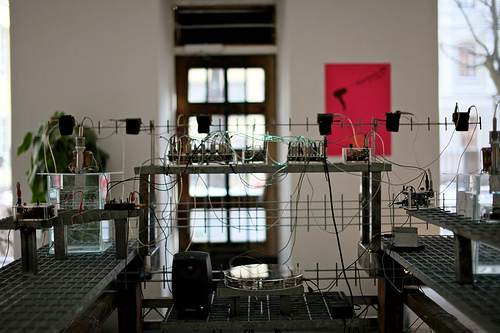 Signals from the South photos by Ville Hyvönen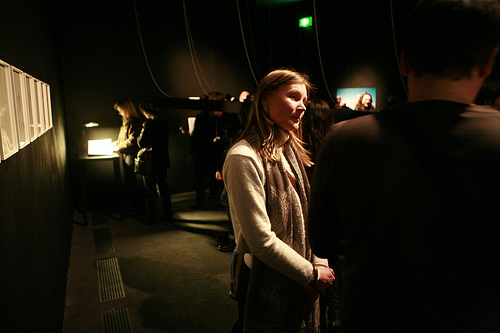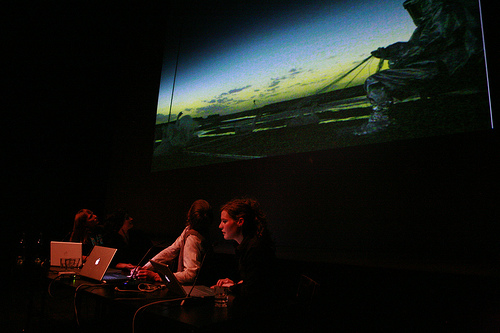 Expedition to the Total Eclipse opening photos by Antti Ahonen
Comments (3)
Older Posts »