le placard #10
'headphone concerts for headphone people'
29-31 MARCH @ PIXELACHE LOUNGE
Kiasma Museum of Contemporary Art
SIGN UP TO PLAY: http://www.leplacard.org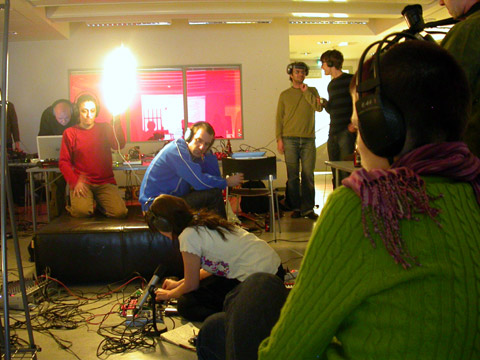 Placard Helsinki / Art's Birthday / January 2007 (more photos)
- - - - - - -
Placard introduction by Erik Minkkinen:
Here we go for Placard Ten… In recent years, debates among Placard crew and users have been concerned with whether Placard is a festival or a participative tool. Those who argued for the definition of Placard as festival emphasized its performances at a specific venue within a fixed time span. This vision of Placard will happen again in Helsinki at Pixelache this year. Arguments for Placard as a tool regard its essence to be its undefined time and space, and its ability to be utilized by anyone who cares enough whenever they like; to be a forum for sounds to be diffused intimately to people across the globe. In the past few years, Placard has been beta-tested in various ways, and this year Placard is getting closer to a limitless tool, as it will remain open for a full year.
Placard opens a new space in live music representation, by creating an intimacy between the audience and the performer. The performer obtains the full attention of his audience through headphones, which has a tendency to motivate audience members into becoming performers, and to push performers into becoming organizers as well. These Placards have happened in diverse places: in Yoyogi Park streaming over a portable phone; in a Volvo 740 for the one or two listeners who could fit in the car; in many different apartments, art galleries, music festivals, phone booths… As a self-proclaimed organizer, the game is to find the right balance of interest between the audience (which can be very small) and the musician. This is easy to achieve, however, since most of the time, the organizer becomes one of the other two types of Placard participant: listener, or musician. Many times, Placard actually becomes closer to a reunion of experimental artists - more of a workshop than an actual concert.
In every edition I have organized, I have personally tried to encourage as many people as possible to perform. The nature of a small audience is one where the unsure-of-themselves can be less intimidated to perform, and the rare exclusively-shared moments maybe be experienced. In other words, the audience and the musician get into a complicity difficult to obtain in other performing situations.
A lot of critical talk goes on among Placard's well-aware audience. As the sound is only on headphones, some listeners will miss a performance sometimes just for the reason of resting their ears, and the listener who does dive into the music has the role of telling others how the performance went. These exchanges are held in a very quiet but chaotic way, encouraging an affective atmosphere wherein different shades of whispering communicates the impressions of music that is just experienced.
Quite a few formations have emerged at Placard, including improvised combinations 'made on the spot', now performing regularly. For a 'placard user' it is a common game to enjoy finding a new performing name, sometimes the game generates intrigue for the placard organizer, who does not know who could be hiding behind any pseudonym. The audience is often enthralled by an aliased performers identity as well, becoming another topic of quiet conversation for 'users'.
The program is always made up by online-subscription of musicians anonymously, where the only real criteria of selection to participate is being: 'wow you found the subscription page'. Then, that person must simply go through the process of filling out the form, and obviously being there. This creates a curious mixture of made up projects, just for the festival, which includes the sounds of more experienced musicians, who have heard about the project through word of mouth and are in town. On the other hand, it can include people who actually check out the different placard events going on when they plan their tour. It also includes people just discovering the process and finding a free slot in the middle of the night. Some sort of human biased randomness creates surprise juxtaposition in the curation of the programme. Sometimes, this can generate different concentrations of auditory perception, allowing people to meet each other, and often to arrange another free slot later, for their brand new projects.
As the placard performances operate very often as a laboratory, quite a few recordings have spontaneously come out of them. It was not a priority for placard to have an archive of every performance since 'placard one', with the intention to respect the musician's superstition against pressing the record button, and to allow for the moments of pure intention to be shared only between the people who were actually present. Nonetheless, musicians themselves, some organizers, and a few distant listeners have been recording shows; and over the years we have accumulated quite an archive from a small percentage of these placard shows.
Last year in Paris placard, we invited a cutter of copy dub-plates, Jan Zimmerman (http://www.vinylizer.de/), so that every performance had its own unique 5-inch record. This vinyl addition to placard really got the idea of the archive back to it's main point, I believe - a unique object being something which is shared or kept secret; giving the owner of this archive the personal authority over the recordings' limited exposure, and thus becoming some kind of placard organizer out-of-context.
Social networking has always been a major part of placard by bringing small audiences together, and by making rooms to have open windows to another distant room; an ersatz to teleportation. 'Placard 5′ was the first double room experience happening simultaneously in Paris and Tokyo in two different apartments. With a small video conference window, the sound stream was going on for the same 72 hours, but obviously in different time-zones. The audience was waving to their friends in Tokyo living at the same marathon rhythm, but experiencing two different rush hours, the well awake audience on one side giving the exhausted morning audience a second kick of energy on the other side. In the next versions during the 3 month program, the game of having 'ping pong' programs went on, making the longest session a six day non-stop program between 5 different cities.
'Polaroids' of participating cities' experimental music scene develop through the organisation of different placards. Through these, one may see the mixes of pop and experimental cultures, and the relation of the city to urban noise. In Paris, as a compact city, for example, there will always be at least one neighbour to complain about noise somewhere. The police are shutting down any event very fast. The 3rd & the 4th placards were both in my own apartment, right on the street-level. Police would pass by all the time, and I quickly understood that some neighbours must have been complaining (for the obvious shouting & applauding going on through the shows). The police could never really stop the noise, however, because apart from voices there was no music, and therefore no real infraction to the noise law. I even believe that they were thinking always, 'well the party must be over now'. At first, most of the performances were purely electronic in Paris, with most people actually working on headphones at home, for neighbourly reasons. Little by little more acoustic instruments joined in, still playing the game of having the full mix only in headphones. I remember Fred Bigot of 'electronicat' playing once with a semi-acoustic guitar and singing, which without headphones sounded like some country music; then with headphones, it was a sonic "marasme"!
Pixelache will not be the first time placard is contributes to a larger festival. Placard has been a part of Dis-patch, Club-Transmediale, Garage.de, Mutek, and once as an off-Sonar event, to name but a few. In the way people meet at placards, it is quite enjoyable to be able to gather a number of local and international artists together in this intimate relation. Placard has been used as a tool in Helsinki quite a few times now, and to have it running in Pixelache on a larger scale will be most interesting, since there is now a little chunk of Finnish placard users. Placard will be ongoing during the whole festival at Kiasma, so please feel welcome to fill up the programme!
placard wants to thank for their support: Goto10 - Yaxu - DeWaag - Hackitectura.net - bek.no - Radiowne.org - Myownspace.fr - Sylvie Astié - Yves Degoyon - Aymeric Mainsoux - la generale - Jan Zimmerman - Glassbox - La gaité lyrique - Frederik Arana - Shinji Kanki - Anagma - Andy Bolus - Mutek - Eric Mattson - Alex Idiola - Simona Venier - riam - lozi - Eric Namour - Enrico Glerean - Edi Ladoire - Hellekin O'Wolf - Miuwlew - Flowershop - Larage - Dicream - Lionel Fernandez - Julliette Bineau - 4ninabis - bias - Giorgio Partesana - dorkbot london - Jan Rohlf - Oliver Baurhenn -Carsten Stabenow - Gesine Pagels - Juha Huuskonen – JB Bayle - Thomas Vriet - The Delietist - Karl Minkkinen - Noun - YoYo? - Jimi Hertz - Relia Bobic - Harold Schellnix - Michael Seta - Goran - Dokidoki.fr - Nana Radenkovic - ma-asso - Raphael Leray - Raphael Toyerro - Olivier Morel - Data - Anne Roquingny - Stephane Babey - o.blaat - Marek Brant - Anne La Foret - Dominique Blais - Daisuke Ishida - Florence Dojo (nice) - Christian Vialard - Yosuke Kawamura - Yves Pellisier - Davy Courvoisier - Lalya Gaye - Mattias Rickardsson - Misa Ichibashi - Isa - Isabelle Piechazyk - Peter Rehberg - Dieb 13 - Helmut Heiland - Jean Louis Chapuis - Ananana - Martiens go home - Phillipe Delvosalle - kdag - Beatrice Retig - Peter StClair? - Jerome Joy - Phillipe Chatelin - Pedro Solers - Icono.org - Julien Baillod - State51 - burundi.sk - Thamieu - Nour Mobarak- Lauphi - A suivre - Okno.be - Code31 - Oreille Electronique - Console - Guillaume Sorge - Slidelab - Arch-Project - Tsukiji Manson - Le Magasin - 102 - Eva Revox - Mehdi Hercberg - Muriel Colin-Barrand - François Para - Milezdaru - Sonia Rasmussen - Slab.org - Murmer - Satoko Ono - Casey Rice - 8bitrecs - Disastronauts - college invisible - miki mikron - Sebastian Reier - Cecil - Laurent740 - Antictheatre - Byteburger - Riereta - Ludovic Poulet - Florence Smadja - Zimmerfrei - Galleria Neon Campobase - Marco Altavilla - Bjorn Ross - Luigi Pagliarini - Andrea Gabriele - Ecoteca - Aspic - La Salle de Bains - Ivan Chabanaud - Pauline Leveque - CarlY - Eric Brun - Laurent Lochoi - Maria -Eve - Iftaf - Musiwap - Etienne Blanchot - Happyhouse - Andrea - Phil Niblock - Hiaz - Peter Rantasa - Kerosen - La Kitchen - Evenement0 - Daz - Yoshi Ok Fred - Didier Lechene - The Tank - Akiko - + all performers who have participated, the list is long.. + all people i have forgotten hope the list isn't too long ..