Seminars
FRIDAY
*NORDIC VJ NETWORKS SEMINAR
This seminar focuses on the role of various networks / networking tools & concepts in advancing collaboration and exchange between VJs in the Nordic / Baltic region..
:-:-:Representatives of existing networks and active networking organizations will give presentations and feed the discussion.
- Eye|con is an Austrian VJ label organizing large scale VJ events in Europe and acting as a bridge between promoters, equipment manufacturers and art organizations. Eye|con has for instance brought over 20 VJ collectives or artists from several European countries to Urban Artforms, the largest European Drum and Bass festival. They connect practicing VJs from different European countries (Austria, Spain, Germany, Finland, etc) to event organizers and work with various organizations across Europe. Eye|con will introduce the concept they have developed and bring knowledge of interesting models for organization and infrastructure.
- Gabor Kitzinger / Vj Rio Rokoko is Hungarian vj and active actor in Hungarian visual field. His been workin since 2001 with organizations like Cinetrip, Sziget Festival and Tilos Radio. His a winner of 2004 Budapest VJ Championships – Live category and has been vjing internationally in various countries. He will talk about the Hungarian VJ scene and present different local organizations dealing with live visuals and also give background on how the scene has evolved.
- VJ Finland is an open forum dedicated to Finnish VJ Culture. The aim of the forum is to encourage the development of the local VJ scene and provide a platform to facilitate networking. VJ Finland also seeks to help the Finnish VJ community to connect to larger international contexts and networks and open up new possibilities for international collaborations. It aims to create an open space for exchange of knowledge and experience and support VJ´s from newcomers to professionals.
- Also presented are
Plektrum – The Festival Of Visual Sound (EE)
Centras Festival (LT)
Mikael Prey / new VJ festival in Sweden
:-:-: Two recent publications on VJ culture will be presented within the context of the seminar and will provide a interesting insight into the current developments of the international VJ scene.
*SCHEDULE*
VJ BOOKS
12.00-13.00
- vE-jA will be presented by the editor of the book Xárene Eskander
- vj: audiovisual art + vj culture by D-Fuse will be presented by VJ Anyone
Break
13.00-13.20
NORDIC NETWORKS PART A
13.20-14.20
- Nordic VJ Meeting introduction / Petri Ruikka
- EyeCon & VJ Camp Crete / 4youreye
- Hungarian VJ scene / Gabor Kitzinger
Break
14.20-14.40
NORDIC NETWORKS PART B
14.40->
- Plektrum festival / Jaagup Jalakas
- Centras festival & other activities by Rüt Rüt / Emanuelis Ryklys
- VJ Finland / Sami Sorvali
- Erik Sandelin / VJ activities in Bogotrax & Pixelazo 2007
- Mikael Prey / a new Swedish VJ festival
+Open discussion
:-:-:-:-:-:-:-:-:-:-:-:-:-:-:-:
SATURDAY
* GENERATIVE ART & VJ SOFTWARE PRESENTATIONS
A series of presentations by individuals or groups who have developed their own tools for audiovisual performances.
11.00-12.00
Marius Watz (Norway) // Generator.x project
A presentation about generative art and design. Marius Watz is the initiator of Generator.x, a conference and exhibition examining the current role of software and generative strategies in art and design.
12.00-14.00
- Gisle Frøysland / Piksel.no festival / Piksel Technologies
- Samu Bence and Peter Gyenei (Hungary) / Animata live animation software
- Bertrand Gonduin (Sweden) / Scramble software
- Nuno Correira (Portugal, Finland / TAIK) / nGrid & B10 softwares
- Jaakko Tuosa (Finland) / Hamara
- Marita Liulia & Jacke Kastelli / creative misuse of Macromedia Director / Projects: Manipulator, Animator and Hunt
:-:-:-:-:-:-:-:-:-:-:-:-:-:-:-: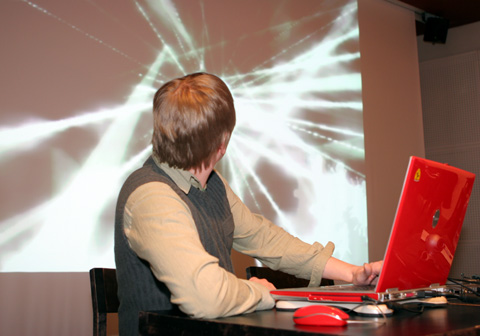 Pixelache 2006: Jukka Kaartinen presenting the Eastböle VJ software (Photo: Antti Ahonen)