Audiovisual performances at Kiasma Theatre
SATURDAY
Lia & @c (PT/AT) + Värähtelyä! (FI)
18.00 -19.00
Lia (AT) is well known for her work with abstract generative studies and live visuals. Lia is performing together with Portuguese experimental music group @c. Pixelache also premieres Värähtelyä!, an improvised audiovisual performance by Rinneradio (FI) with special guests Iro Haarla (harp), Aleksi Myllykoski (DJ) and Merja Nieminen (visuals).

SUNDAY
Vacuum Pattern (sound: kulgurid / visual: tencu & miisu (EE)) + Grains & Pixels (SE)
15.00 -16.00
Vacuum Pattern (EE) an audiovisual collaboration between the band Kulgurid and VJs Tencu and Miisu. Grains & Pixels (FR/SE) is a live cinema show with artificial intelligence and interactive media in wich improvisation is augmented in real-time by custom interactive visualization and sonification software.
Kira Kira (Kitchen Motors) featuring Samuli Kosminen, Hilmar Jensson, Alex Somers & Eiríkur Orri (IS)
17.00-18.00
Kira Kira (IS) is a founding member of the Icelandic art collective Kitchen Motors. In Helsinki she is performing with four invited guests: Alex Somers on glockenspiel, keyboards and music boxes; percussionist Samuli Kosminen; guitarist Hilmar Jensson; and Mr. Eirikur Olafsson on trumpet, flugelhorn, music box and laptop. The crew will make create brand new visuals for Pixelache festival together with artist Magnús Helgason.
:-:-:-:-:-:-:-:-:-:-:-:-:-:-:-: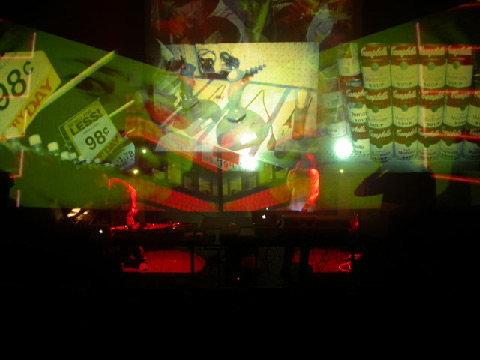 Pixelache 2003: Light Surgeons (Photo: Antti Ahonen)