Nordic VJ Meeting Helsinki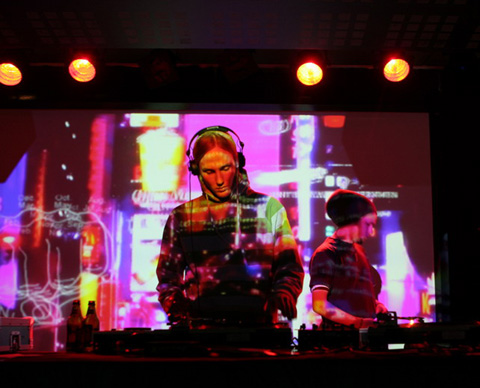 Pixelache 2006: VJ Battle / Katusea Soundsystem (Photo: Antti Ahonen)

Pixelache Nordic VJ Meeting
29 March - 1 April
Pixelache festival is organising a gathering dedicated to VJs and live audiovisual artists from Nordic/Baltic region.

The Nordic VJ Meeting is intended for VJs who want to present their work, debate issues related to VJ practices, share their knowledge and inspire each other. It aims to encourage future collaborations and exchange within the Nordic/Baltic VJ community.
The Nordic VJ Meeting will feature a diverse program of performances, seminars, workshops and club events. In addition to events at KIASMA Museum of Contemporary Art, The Nordic VJ meeting will present projects across various club venues in Helsinki. A series of Guerrilla actions are also to be seen in different parts of the city during 22 March-1 April 2006…
:-:-:-:-:-:-:-:-:-:-:-:-:-:-:-:
*AUDIOVISUAL PERFORMANCES AT KIASMA THEATRE
- Lia & @c
- Värähtelyä
- VJ Jamming Session : The VJ Jamming session is a two and a half hours long non-stop cocktail of audiovisual performances, featuring 3 dj's and about 20 vj's.
:-:-:-:-:-:-:-:-:-:-:-:-:-:-:-:
*VJ NETWORK SEMINAR
This seminar focuses on the role of various networks / networking tools & concepts in advancing collaboration and exchange between VJs in the Nordic / Baltic region.
:-:-: Representatives of existing networks and active networking organizations will give presentations and feed the discussion.
- Eye|con is an Austrian VJ label organizing large scale VJ events in Europe and acting as a bridge between promoters, equipment manufacturers and art organizations. Eye|con has for instance brought over 20 VJ collectives or artists from several European countries to Urban Artforms, the largest European Drum and Bass festival. They connect practicing VJs from different European countries (Austria, Spain, Germany, Finland, etc) to event organizers and work with various organizations across Europe. Eye|con will introduce the concept they have developed and bring knowledge of interesting models for organization and infrastructure.
- Gabor Kitzinger / Vj Rio Rokoko is Hungarian vj and active actor in Hungarian visual field. His been workin since 2001 with organizations like Cinetrip, Sziget Festival and Tilos Radio. His a winner of 2004 Budapest VJ Championships – Live category and has been vjing internationally in various countries. He will talk about the Hungarian VJ scene and present different local organizations dealing with live visuals and also give background on how the scene has evolved.
:-:-: The seminar will also be dedicated in part to the presentation and discussion of networking tools that allow people to communicate and share information over the web. The new Finnish VJ network/forum will be used as a case-example. This forum is intended to work on a local level and aims to connect to other similar sites throughout the Nordic countries in the future. The creators of the project will discuss the perspectives opened up by such a tool..
More presenters from the Nordic countries tba!
:-:-:-:-:-:-:-:-:-:-:-:-:-:-:-:
* GENERATIVE SOFTWARE & VJ SOFTWARE PRESENTATIONS
A series of presentations by individuals or groups who have developed their own tools for audiovisual performances.
Preliminary list of participants:
- Marius Watz (Norway) // Generator.x project
- Samu Bence and Peter Gyenei (Hungary) // Animata live animation software
- Bertrand Gonduin (Sweden) // Scramble software
- Nuno Correira (Portugal, Finland / TAIK) // nGrid & B10 softwares
- Jaakko Tuosa (Finland) // Hamara
:-:-:-:-:-:-:-:-:-:-:-:-:-:-:-:
*CLUBS
Friday, March 30
PikseliAlas club on Friday in Korjaamo is collaboration between Pixelache festival and Alas club. The line-up includes audiovisual sets by electronic music artists and VJs from Nordic region, among them Rumpistol + Bottega Arete AV set (Denmark) and Po'land (Finland).
Saturday, March 31
The main club event of Pixelache on Saturday is organised in collaboration with Basso. The event features Hexstatic (further information below) and 4youreye & M-FX (Austria) AV set as well as an eclectic mix of Nordic VJs and Finnish electronic music acts and DJs.
:-:-:-:-:-:-:-:-:-:-:-:-:-:-:-:

Hexstatic
Pioneers of contemporary VJ Culture, best known for the Coldcut & Hexstatic collaboration projects in late 90s, Hexstatic have spent the last 10 years making some of the craziest audio and visual productions and staging spectacular shows around the world. Hexstatic was voted Nro 1 in the annual 'Top 20 VJs in the world' poll organised by DJ Magazine in 2005.
Hexstatic are Stuart Warren Hill and Robin Brunson, and together they have been consistently breaking new ground in Audio and Visual entertainment since 1995. Hexstatic started experimenting with video at the first Big Chill festival and then went on to become resident VJ's at Ninjatune's famous Stealth night and a host of other UK clubs. They collaborated with Coldcut and Greenpeace for the Natural Rhythms Trilogy, which included the award winning AV single Timber.
Past work includes collaboration with David Byrne at Lisbon Expo and the first live AV show at the spectacular Guggenheim Museum in Bilbao. They are regular contributors to new media festivals such as onedotzero and have produced work for the BBC and Channel 4 amongst others. Hexstatic have been instrumental in developing the Pioneer DVJ-X1 professional DVD player, being the first to demo at Sonar 2004.
October 2004 sees the release of Master View, the second AV album from Hexstatic. This lush beats and electro album comes as a groundbreaking CD\DVD and features synchronised videos for every track and extras including 3D anaglyph versions of selected videos.
www.hexstatic.tv
Hexstatic and Amon Tobin gig
:-:-:-:-:-:-:-:-:-:-:-:-:-:-:-:
Confirmed participanting VJs / Collectives / Musicians
4youreye / Eye|con (Austria)
M-FX (Austria)
Lia (Austria)
Bottega Arete (Denmark)
Rumpistol (Denmark)
Casper øbro (Denmark)
VJ Samesame (Denmark)
DJ MHMOne (Denmark)
Propaganda (Estonia)
VJ Tencu (Estonia)
VJ Miisu (Estonia)
Sabrina Harri & Alex de Ville de Goyet (Finland / Belgium)
Jugi Kaartinen (Finland)
Teemu K (Finland)
Kirves (Finland)
Po'land (Finland)
Random Doctors (Finland)
DJ Rrörrimöyk (Finland)
Undercontrol (Finland)
Visual Systeemi (Finland)
Värahtelyä (Finland)
Xploitec (Finland)
Antoine Verhaverbeke (France)
VJ Rio Rokoko (Hungary)
VJ Morc (Hungary)
Samu Bence (Hungary)
Kira Kira / Kitchen Motors (Iceland)
Linards Kulless (Latvia)
Bubbleshow (Latvia)
Rüt Rüt (Lithuania)
Vodka Jugend (Lithuania)
Marius Watz (Norway)
Video Jack (Portugal)
@C (Portugal)
Bertrand Gondouin (Sweden / France)
Grains & Pixels (Sweden)
Richard Widerberg (Sweden)
TVOUT (Sweden)
Roberto N Peyre (Sweden)
Hexstatic (UK)
:-:-:-:-:-:-:-:-:-:-:-:-:-:-:-: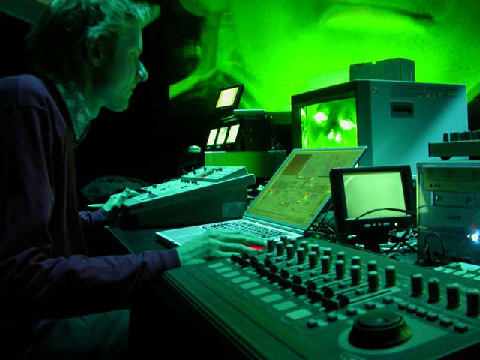 Pixelache 2003: Dekam (Photo: Antti Ahonen)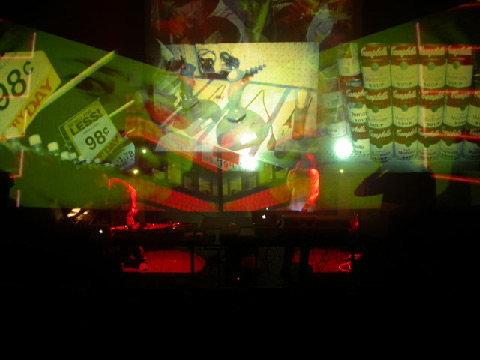 Pixelache 2003: Light Surgeons (Photo: Antti Ahonen)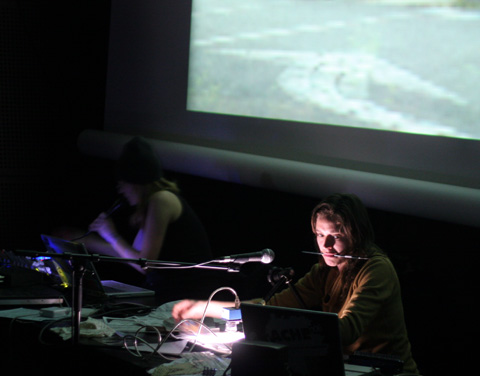 Pixelache 2006: AGF.3 + SUE.C live (Photo: Antti Ahonen)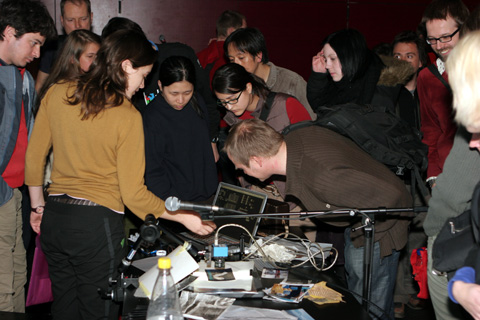 Pixelache 2006: Audience checking out the SUE.C live visual setup (Photo: Antti Ahonen)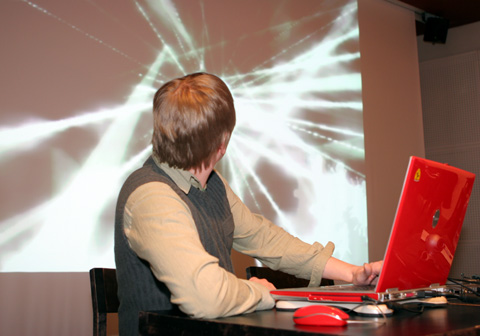 Pixelache 2006: Jukka Kaartinen presenting the Eastböle VJ software (Photo: Antti Ahonen)