Salón Internacional del Autor Audiovisual & Workshop with Arhuaco and Kogi indians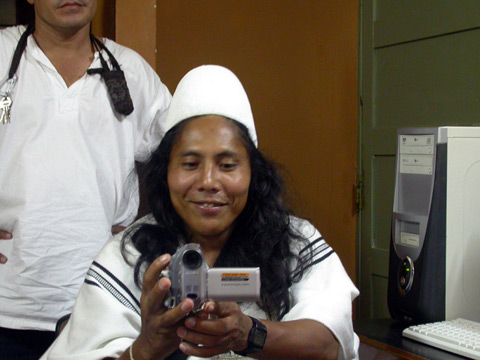 Report by Juha Huuskonen
Links: Salón Internacional del Autor Audiovisual (information in Spanish) - Intermundos- Organización Gonawindua Tayrona
Introduction
This is a short report from Salón Internacional del Autor Audiovisual film festival which took place in Barranquilla, Colombia in August 2005. This was the 9th edition of the Salón, an annual festival which I can definitely recommend for everyone who happens to get a chance to participate.
The story starts from PixelACHE 2005 in Helsinki where artist / VJ / organiser Vanessa Goksch from Intermundos/Colombia was one of the invited guests. We decided to try to get more things happening between Colombian events in PixelACHE (or between the North and the South in general) and my visit to Barranquilla was the first step in the process. The visit was made possible with the support of AVEK Promotion Centre for Audiovisual Culture.
Salón Internacional del Autor Audiovisual
The theme of the 9th edition of Salón Internacional del Autor Audiovisual was 'Editing: The third script'. Most of the invited guests were film editors, which is an unusual thing for a film festival - it's usually the directors who get the credit and get to travel to all nice events.
My task was to introduce 'live editing' aka VJing aka video performances which I did in collaboration with Vanessa, we put together a screening of VJ work (mostly projects from previous PixelACHE festivals) and also gave a presentation and most importantly a 3-day VJ workshop for local students. The workshop format was similar to the VJing in Delhi workshop which I gave earlier this spring at the Doors of Perception conference - 1 day of learning the tools and concepts, 1 day of gathering material on the streets, 1 day of working on the material + a show for the public in the end. The final show took place in a local bar under a tropical rain storm… which didn't bother the audience much, in fact there was no way for the audience to leave the place since all the streets were flooded :)
There is very little funding for filmmaking in Colombia and no possibilities for Hollywood style distribution. Therefore filmmaking in Colombia is do-it-yourself kind of activity, fueled by enthusiasism rather than financial gain. Despite this situation some great films get produced, at least I enjoyed very much the ones I had a chance to see during the festival. I would especially recommend 'La Sombra del Caminante' by Ciro Guerra (editing by Iván Wild).
In addition to local filmmakers and editors, the festival had a few international guests - José Salcedo (Spain, he has done editing for all the Pedro Almodovar movies), Emilio Maillé (Mexico, director of 'Rosario Tijeras', a movie shot in Medellin / Colombia and probably a big hit in Colombia this year), Peter Kinoy (US), Andrew Bird (Germany), etc… Most of the screenings were completely sold out, the guests were extremely well taken care of with fantastic dinners, late night salsa dancing and much more…
VJ workshop at Universitad del Norte + gathering footage around Barranquilla:
Final show of the VJ workshop at Bar de Jose: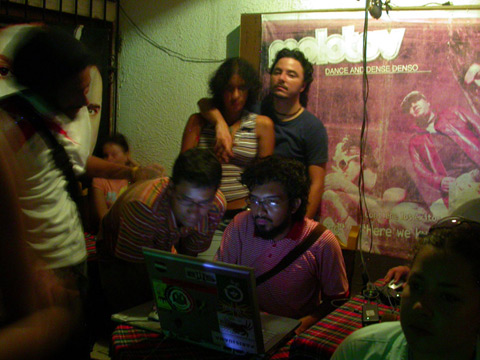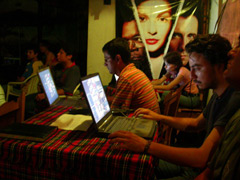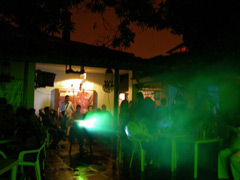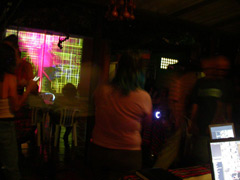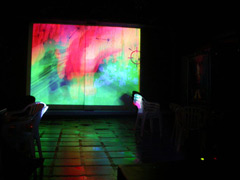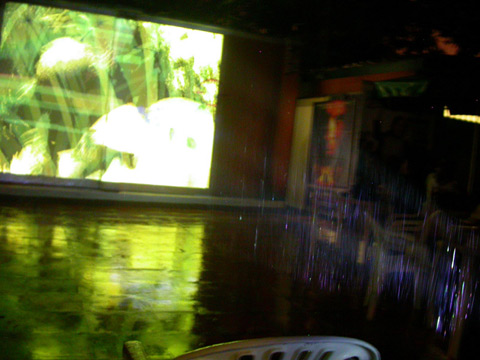 Meeting the Arhuaco and Kogi indians
After a week in Barranquilla, we headed to Santa Marta to give a workshop for the Arhuaco and Kogi indians. There once was a large amount of native indian tribes in Colombia but today most of them have disappeared. The snowcapped mountains Sierra Nevada of Santa Marta have fortunately given some protection for the traditional lifestyle of the indians.
The community center at Santa Marta has a computer + some video equipment, donated to the indians by National Geographic magazine. The purpose of the equipment is to enable the indians to document their life themselves but they have received only little practical advice on how to use the equipment. We helped them with some technical issues and introduced them to VJing, which was surprisingly interesting for them - they liked the idea of live video performance which can reflect the current situation in time, instead of producing a film which is a capsulated piece of time.
The indians believe that their task is to 'sustain the equilibrium of the Universe'. They have several sacred locations on their lands where their spiritual leaders can connect to the Earth and give advice. One great motivation for the indians for using video is to utilize it for sending out their warning to the 'Little brothers', informing us that the way we are currently treating the environment is dangerous for the future of this planet. They also hope that educating people about their way of life will help them to maintain the control over their lands. Video is also an efficient tool for reporting any potential missuse of their lands.
Vanessa has been working with the indians before but for me this was the first this type of encounter. It is complex situation to come from the North (especially as far as Finland :) and try to be useful to indigenous people without accidentally imposing western ideas and making wrong assumptions of what is important… I don't think there is any easy solution for this dilemma, the only thing one can do is to take time and move slowly… and therefore I'm happy that my little contribution is linked to Vanessa's longer term work process.
Future activities + more photos
The next step in Colombia - PixelACHE collaboration is an event called Bogotrax, taking place in Bogota in February 2006. Bogotrax is an electronic music / arts festival which takes place now for the third time in the suburbs of Bogota, offering free concerts, club events and workshops. More information coming soon!
And as a bonus some more photos from Barranquilla + Santa Marta + Taganga + Quebrada Valencia…
[ Warning! The following images might result in an urge to book a flight immediately, especially for people living in northern climate conditions :) ]
( click image to enter the photo page )