mercredi 26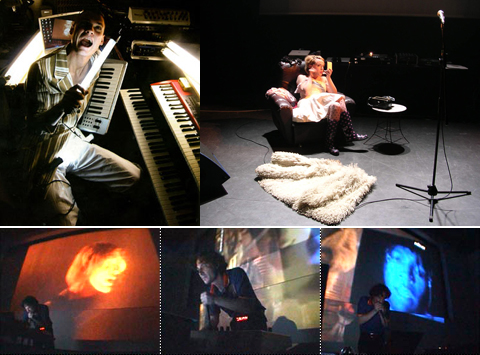 Soirée Test
A partir de 20h30, 6€
Piano Mekanik Kantatik
Nicolas Cante est un musicien de renom, qui a collaboré avec différentes formations régionales et nationales, dont le Centre Chorégraphique d'Aix-en Provence (Angelin Prejlocaj) et le Centre National des Arts de la Rue Lieux Publics.
Piano Mekanik est l'une des créations musicales et visuelles du pianiste. Le principe de concert-performance, dont une version d'étude avait été présentée Place d'Albertas dans le cadre de Musiques dans la Rue organisé par Aix en Musiques, réside en une transversalité vidéo / son gérée en temps réel par divers procédés interactifs. Le traitement en live du son est synchronisé avec le travail de la vidéo en temps réel de Gilles Toutevoix présent sur scène. La performance très improvisée s'adapte à l'espace offert pour jouer des illusions visuelles et sonores et donner au spectacle un esprit ludique, surréaliste qui transporte le public dans un voyage coloré et surprenant. Jazz, contemporain, Pop, Electro… les frontières musicales disparaissent pour laisser place à des sonorités originales et envoûtantes, quelques fois dérangeantes, qui font parfois sourire.
http://www.yovocorp.net/mekanik.htm
Piano Mekanik Kantatik
Nicolas Cante is a famous musician who collaborated with different regional and national formations like the Centre Chorégraphique d'Aix-en Provence and the Provence (Angelin Prejlocaj) et le Centre National des Arts de la Rue Lieux Publics [National Centre of Street Art].
Piano Mekanik is one of the musical and visual creations of the pianist. The principle of concert-performance is based on the crossing of video / sound managed in real time by diverse interactive procedures.
A test version has been presented on Place d'Albertas in the framework of Musiques dans la Rue [Music in the Street] organized by Aix en Musiques. The live sound treatment is synchronized with the work of the real time video by Gilles Toutevoix who is on stage. This very improvised performance adapts to the offered space in order to play visual and sound illusions and to give a kind of ludic and surrealist spirit to the show that takes the auditory on a surprising and coloured voyage. Jazz, contemporary, pop, electro… the musical borders disappear to let room for original and soft sonorities – sometimes disturbing, which make smile from time to time.
http://www.yovocorp.net/mekanik.htm
sCrAmBlEd?HaCkZ!
Né en 1975, Sven König a étudié la philosophie, la sociologie, les sciences politiques et les nouveaux médias. Les disques, les bandes magnétiques, les vinyles, les samplers numériques et les ordinateurs ont libéré les samples depuis déjà un bon moment. Mais encore – pour ne pas respecter les droits d'auteurs – on doit décider quel sample on veut vraiment voler. On doit laborieusement télécharger des fichiers audio sur des samplers ou des séquenceurs. On doit couper, copier, coller et arranger. Tout cela prend une précieuse énergie créative et beaucoup de temps. C'est désormais fini !
A partir de son dispositif « sCrAmBlEd?HaCkZ! », banque vidéo de clips des années 80, il pioche dans des extraits trop courts pour tomber dans les filets du copyright et produit un live frénétique piloté à la voix, accompagné par toutes les stars du r'n'b ou du hip hop.
www.popmodernism.de
sCrAmBlEd?HaCkZ!
Sven König was born in 1975 and he studied philosophy, sociology, politic sciences and new media. The disc, the tapes, the vinyls, the digital samplers and the computers liberated the samples already since quite a long while. But still – in order to ignore the copyrights – you have to decide which sample you really want to steel. You have to download laboriously audio files on samplers or on sequencers. You have to cut, to copy, to attach and to put right. This costs precious creative energy and plenty of time. It's over now !
With his device « sCrAmBlEd?HaCkZ! », data bank of video clips of the 80s, he picks in extracts that are too short to be under copyright and he produces a frenetic live event with the voice, accompanied by all the stars of r'n'b or hip hop.
www.popmodernism.de
Sir Alice
Alice Daquet, artiste protéiforme, navigue dans différents univers, ses activités se rejoignent toutes et s'influencent, donnant lieu à une œuvre globale. Entre installations, performances, conférences, collaboration diverses et un travail de recherche à l'IRCAM dans le domaine des interfaces homme/machine, elle trouve le temps de sortir son premier album intitulé ? dans le mois qui vient. Un projet musical signé sur les labels Tigersushi/ Kwaïdan (label du producteur Marc Collin Nouvelle vague, Avril, Volga Select)qu'elle interpète sur scène dans un décor de salon, transformé au gré de la musique, du public et de ses envies. Sir Alice improvise dans un cadre qu'elle s'est dessinée, gardant ainsi le caractère unique d'une performance.
Alice Daquet, protean artist, navigates in various universes, her activities come together and influence themselves, giving rise to a global work of art. Between installations, performances, conferences, different collaborations and researches at the IRCAM in the field of the man/machine interfaces, she finds time for her first album entitled "?" released
next month . A musical project signed on the labels Tigersushi/Kwaïdan (label of the producer Marc Collin Nouvelle vague, Avril, Volga Select), which she interprets on stage in a kind of living room, that she transformed through the music, the public and her desires. Sir Alice improvises within a framework she drawed herself, thus keeping the unic character of a performance.