Bogotrax 2006
[una fiesta privada para todo el mundo]
16-26 Feb 2006 - http://bogotrax.free.fr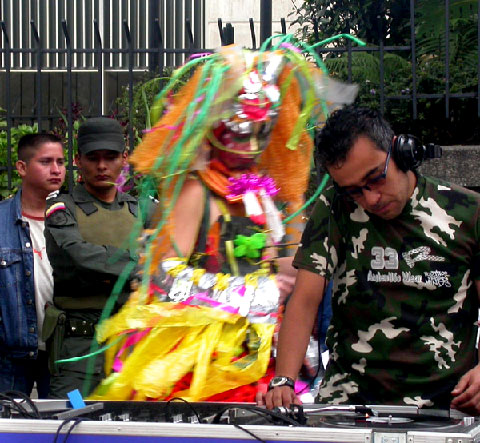 Report by Juha Huuskonen
Bogotrax is a festival of electronic music and culture, taking place in Bogotá, the capital of Colombia… It's a 10 day non-stop experience, with concerts, workshops and conferences going on during the day and club events + outdoor parties happening at nights…
My personal contribution to Bogotrax was to host a VJ workshop and to participate in some of the conferences, organised by Vanessa Gocksch aka Pata de Perro (www.intermundos.org) who has been working with us to create a collaboration relationship between Pixelache and organisations in Colombia… The first step took place last summer (Salón Internacional del Autor Audiovisual & Workshop with Arhuaco and Kogi indians) and for next spring we are preparing a larger scale event with more international participants…
It is difficult to describe the Bogotrax festival… It was a very intense event, with not much time to rest… And the organisers did an amazing job, setting up the sound + video gear every day and night in a different place. All the events were free, which is unusual for electronic music events in Colombia… Usually electronic music events have big DJ names from Europe, expensive tickets and high security. Bogotrax was extremely succesfull, with completely packed venues every night and a lot of attention from local media… The workshops and conferences were organised together with local universities which have pretty good technical facilities and students producing interesting work.
Bogotrax event was a self-funded event, there were pro-Bogotrax events organised before the festival… And there was also talk about organising post-Bogotrax pro-Bogotrax events since the budget was minus something in the end…
For me the event was a trip back in time to the early 90s, when the electronic music culture was emerging around Europe… Warehouse parties and outdoor raves going on until the sunrise with a diverse crowd making all dance moves they can… And music going silent when police or some other authorities arrive and going up again when they leave…
Even though Bogotrax took me to far away suburbs and various strange places in Bogota, I didn't feel any unsafe at any point… On the contrary, I think staying in one of those expensive high-security hotels can make one feel uneasy… Also, I was suprised how openly artists were criticising the current political situation… Political posters and graffitis were all over the city and performances often contained political content as well…
The plan for Pixelache & Bogotrax & Intermundos & co collaboration for spring 2007 is to do events in Bogota and then later on set up a small working and experiencing camp in the jungle… Also we are hoping to bring some Colombian artists back to Europe later in 2007.
Check out the Bogotrax site + blog, Vanessa's report of workshops and conferences and Intermundos.org for more links and info…
Here are some photos from various Bogotrax events…
Bogotrax by Night:
VJ workshop:
Parque Santander (trash performance + dj / live sets + SLOW open source software distribution):
Bogota inside out: