FINN~ISH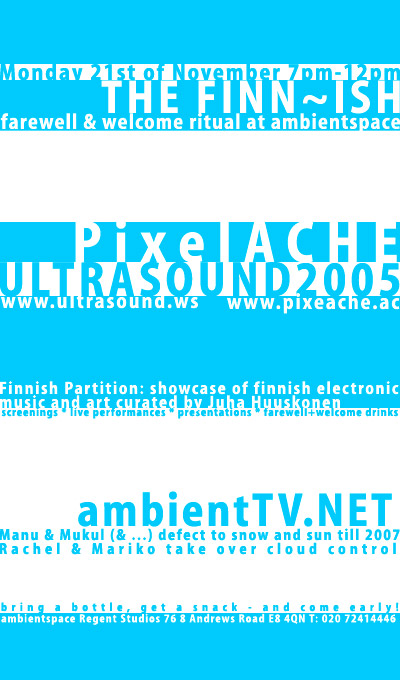 Monday 21st of November is a three-in-one party opportunity
for those of you who are in London:
* Ultrasound 2005 Warm-up *
* PixelACHE festival get-together *
* Finnish finish for Ambientv.net *
Ultrasound 2005 (www.ultrasound.ws) presents 'Finnish Partition',
a showcase of Finnish electronic music and art. The Finnish
program is programmed and organised by Juha Huuskonen, the chief
of PixelACHE festival circus (www.pixeache.ac). The programme
features some of the highlights of the PixelACHE festival editions.
If you cannot make it to Huddersfield (you definitely should
try to!) then you can catch a glimpse of the programme at the
event which is hosted by our dear friends Ambienttv.net
(www.ambienttv.net). This 'Finnish finish ritual' also marks
the 15 sabbatical months ambientTV.NET's Manu & Mukul
are taking from London…
* * *
The programme of the evening features…
+ Performance by Memnon
Memnon is an experimental music duo of kantele player
Eva Alkula and sound designer Ville Hyvönen - for more info,
music and videos go to: www.memnon.fi
+ Presentation of PixelACHE festival by Juha Huuskonen,
highlights of 2005 + upcoming program in 2006…
+ Videos by O Samuli A + other Ultrasound / PixelACHE artists
+ More! We are open for ideas and improvising! :)
* * *
21. November 2005
7-12 pm
Bring a bottle, get a snack
and yes: do come early!
ambientspace
Regent Studios Unit 76
8 Andrews Road
London E8 4QN
Nearest tube: Bethnal Green
buses: 48, 26, 55, 106, 253 stop: Cambridge Heath Road
Tel. 020 72 41 4446
* * *
Photos from the event: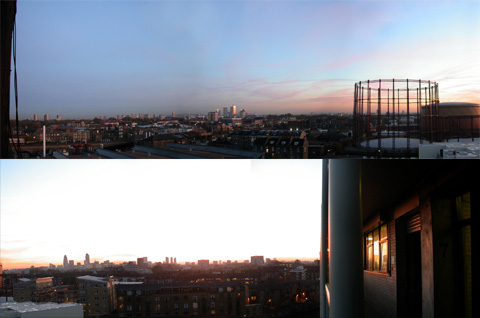 Photos: Juha Huuskonen