I was invited to curate the Open Helsinki & Pixelache Helsinki programme for this year's DMY MakerLab in Berlin. This was the second edition of DMY MakerLab, dedicated to open design and maker culture.
DMY festival is pretty similar to many other big design fairs, but DMY tries to stand out from the others by emphasising critical and experimental approaches to design, as well as highlighting work done by graduating students and emerging designers. The venue is the amazingly massive Tempelhof airport and this year's event attracted more than 30 000 visitors. So, it was noisy and busy, but the mood was friendly and relaxed. Most of the MakerLab workshops were well attended and especially the quick drop-in workshop worked very well, people were happy to stop for an hour or so to learn and do something.
Below you can find some glimpses of the Open Helsinki section (YKON Game, Low2No School of Activism, We *Love* Open Data and Massimo Menichinelli / openp2pdesign.org) and Pixelache Helsinki section (OHANDA open hardware initiative and Temporary photoElectric Digestopians Worklab by Bartaku).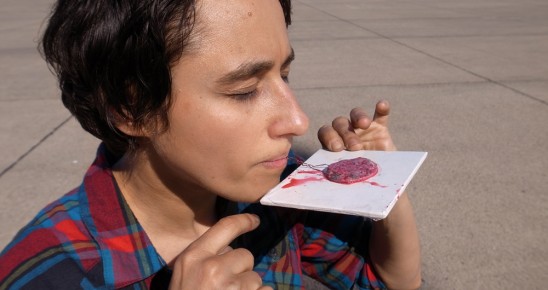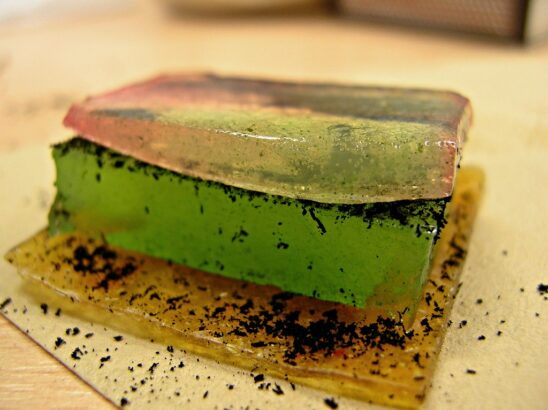 Temporary photoElectric Digestopians [TpED] are experimental e-tapas designed to provide an electric tickle on a heliotropic tongue. Fusing cooking with solar cell design, light energy is harvested by edible power plants and transformed into electrical energy. After the e-tickle has enriched the taste, the left over energy (kJoules) powers the body and flows further into nature as nutrient for the plants. The TpED worklabs are a node of Bartaku's ongoing research 'PhoEf: The Undisclosed Poésis of the Photovoltaic Effect'. Bartaku is a Brussels based artistic researcher and member of transdisciplinary lab FoAM. Here are some TpED photos and Bartaku's interview at WMMNA.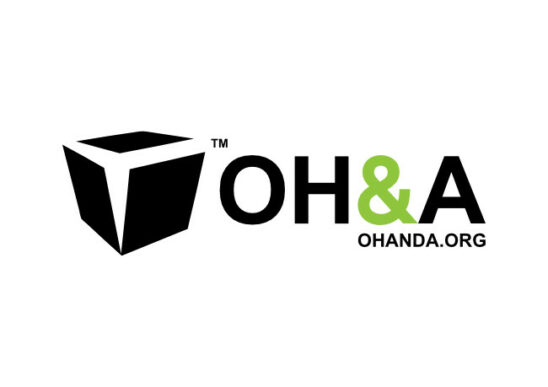 OHANDA is an initiative to foster sustainable sharing of open hardware and design. It was first drafted at the GOSH!-Grounding Open Source Hardware summit at the Banff Centre in July 2009 and one of the first goals of the project is to build a service for sharing open hardware designs which includes a certification model and a registration. More information at www.ohanda.org.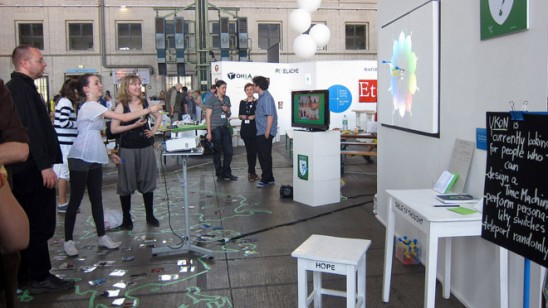 The YKON Game was one of the nominees for the DMY 2011 Award. YKON Game is a world simulation game for up to 30 -50 players, inspired by Buckminster Fuller's World Game. The game is based on a simple thought experiment: Imagine that the world is brought to a complete halt. Everything stops. No more business as usual. With the world being frozen, you and your fellow players can tinker with the world as you please. What will you change? How do you convince others to go along with your changes? And what about the consequences? In short: The YKON Game is a workshop, party and therapy session in one.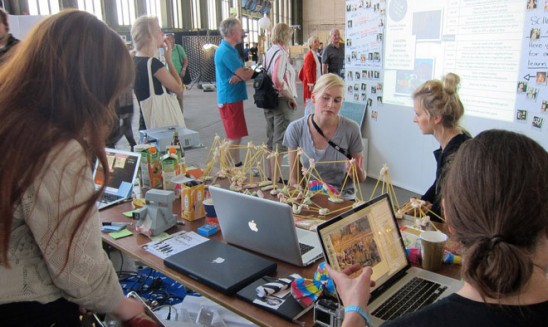 The Low2Now Camp by Demos Helsinki project brought a busload of urban activists from Helsinki to Berlin. During three days they hosted the Low2No School of Activism and explored the local scene in Berlin. More information and great examples of urban grassroot initiatives can be found at Low2Now Camp blog.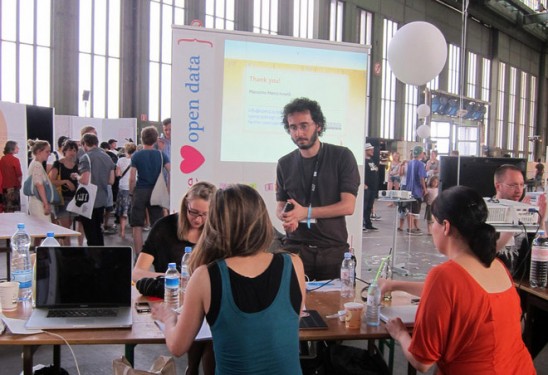 Massimo Menichinelli from openp2pdesign.org gave two presentations: 'Open P2P Design' and 'Open P2P Design & Markets and business models for Open and DIY projects'. You can find the presentation slides here.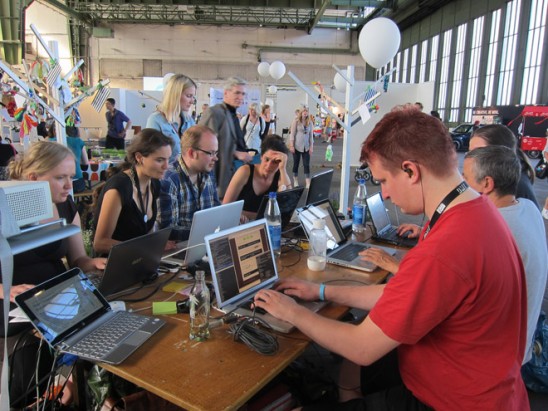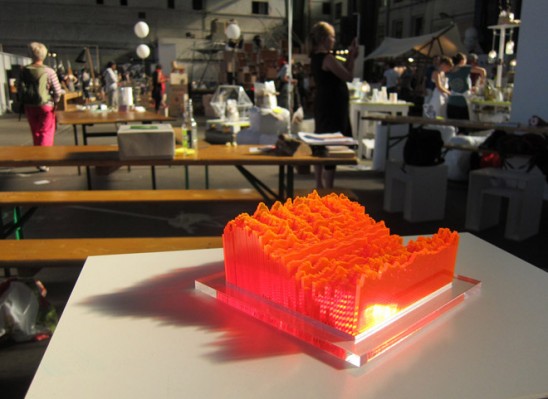 We *Love* Open Data is a bunch of open data researchers and enthusiasts from Helsinki. This informal collective was formed for the occasion of DMY MakerLab but has continued its activities afterwards as well. During DMY the group managed to collect and visualize information about rental prices in Berlin. In addition, Miska Knapek presented some of his sculptures which visualize/materialize long time spans of weather data. More info at weloveopendata.com blog.
You can find more information about these and other MakerLab projects from DMY Berlin website. Some additional photos can be found from my DMY Berlin photoset and I also made a short walk-through video of the DMY MakerLab area.
* * *
About DMY MakerLab:
The DMY MakerLab serves as a public experimentation space for accessing new technologies, communicating and exchanging concepts. Inaugurated in the 2010 DMY design festival, the lab is the first large maker platform in Germany and was enthusiastically received by the press, public and professionals alike. The lab unites inventors, designers and visitors in a workshop area fitted with some of the finest techno­lo­gies and materials available, side by side with low-tech instruments and applications. Visitors may learn how to grow medicinal mushrooms, experience seasonal influences while working with fabrics, access and visualise open data and collectively map ideas. Moreover, they can engage in full day workshops on open hardware, benchmarking of environmental case studies or Cradle to Cradle principles.