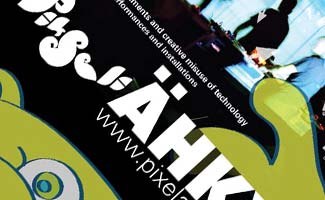 poster/programme (1353 Kb)

pikseliÄHKY 2003
Helsinki, 10-13 April 2003

# audiovisual experiments and creative misuse of technology
# DIY lo-fi/hi-fi performances and installations

PikseliÄHKY is an international laboratory for creative experimenting with audiovisual technologies. This year's event is built around the theme VIDEOJUKKA (finnish term for a VJ) and will bring together a wide range of artists, academics, technology and media wizards and brave young creators. Almost one hundred artist guests from Finland and abroad are going to show up at this year's event!

The main venue for the event is Kiasma, Museum of Contemporary Art. PikseliÄHKY clubs will take place at Mother (Friday 11 April) and Jumo Jazz Club (Saturday 12 April).

PikseliÄHKY // pixelACHE 2003 is a special CHLYK_MINT tour - in addition to Helsinki we will also travel to New York (1-3 June) and Montreal (5-7 June).

For more info on pikseliÄHKY, mail info@pixelache.ac. For booking info call Kiasma info at (09) 1733 6502.