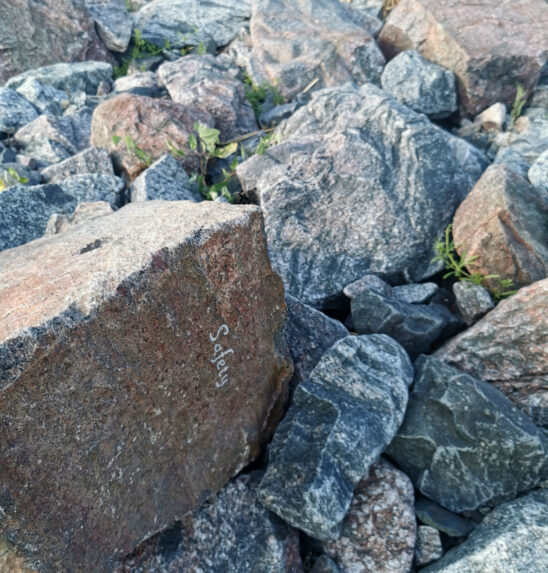 For me the most interesting artwork in Vallisaari was a work by Timo Viialainen, a work that is not a part of the Helsinki Biennial. Actually, the work no longer officially exists, it had to be dismantled to make room for the biennial.

Timo's work consists of three words: Threat, Is, Safety. Timo carved these words into three stones on the bridge connecting Vallisaari and Kuninkaansaari. The rocks were arranged in a line reaching out to the sea. The audience had to use binoculars to properly see the last word, Safety.

The work comments on the many warning signs that can be found all around the Vallisaari island. The island is mostly a protected nature reserve, and it is also a former military training ground. For these reasons one should not enter the forest but observe it from a safe distance, from the wide roads that circulate the island. This is an unusual experience – in most of other nature trails in Helsinki (Nuuksio, Uutela, Vartiosaari, etc) one is actually walking inside the forest, smelling the aromas and feeling the rocks, roots and soil under one's feet. The current heat wave amplifies the difference between these two experiences – in Vallisaari walking is exhausting, since one can rarely find cover from the sunshine. The wide empty tracks carved into the forest make Vallisaari a great place for taking photos for social media – for looking at nature instead of experiencing nature.

With his work Timo also wants to point out that an agenda to eliminate all threats is a futile one. A completely safe state is an artificial, isolated condition that cannot be sustained. For one to be safe in a long run one has to be 'out there' – involved, engaged, exposed, vulnerable. Threat, Is, Safety. Safety, Is, Threat.
Continue reading