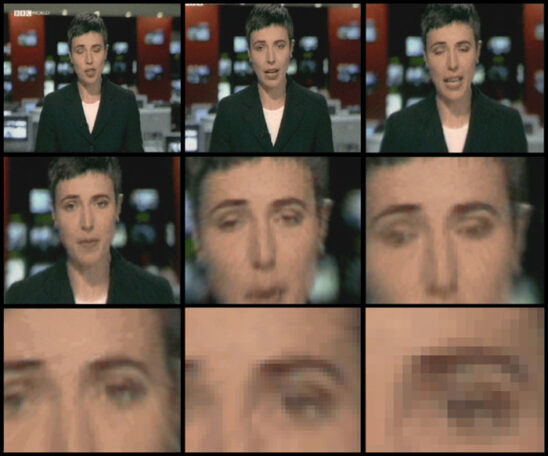 THE MOMENT OF LONG NOW
The Moment of Long Now is an alternative news tv channel. The channel shows short snippets of news footage with a pace that is a hundred times slower than what we are used to. A piece of custom made software magnifies and manipulates the images in real-time, creating an illusion of a virtual camera which is able function and move around within a still moment.
The name of the project was inspired by the Long Now Foundation, an organisation with a goal "to promote 'slower/better' thinking and to foster creativity in the framework of the next 10,000 years."
CREDITS

Concept and software: Juha Huuskonen
Sound: Tuomas Toivonen
The production of The Moment of Long Now was supported by NONTV TVSTATION, AVEK and Arts Council of Finland.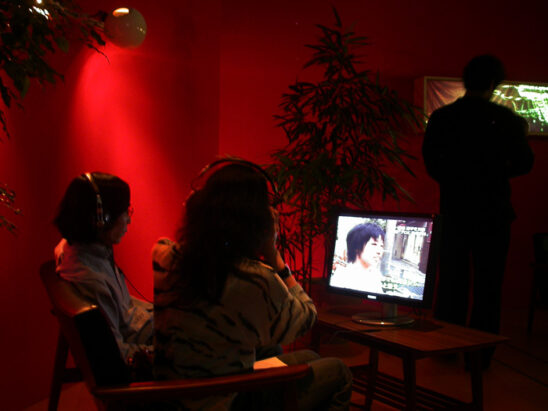 The Moment of Long Now at ambient.lounge / Connecting Worlds exhibition, NTT ICC, Tokyo
EXHIBITIONS AND SCREENINGS
The original version of The Moment of Long Now was created for NONTV TVSTATION. The project was running non-stop for a duration of one month as an on-line video stream and on video screens in several museums (Kiasma Museum of Contemporary Art in Helsinki, Finland and County Museums of Gävle, Härnösand and Luleå in Sweden).
The Moment of Long Now has been shown as a video installation at:
– Connecting Worlds exhibition, NTT ICC, Tokyo, Japan (2006)
– Satellite of Love exhibition, Witte de With, Rotterdam, Netherlands (2006)
– Get Real exhibition, Museet for Samtidskunst, Roskilde, Denmark (2005)
– Get Real exhibition, Kiasma Museum of Contemporary Art, Helsinki, Finland (2004)
– Time in Design event, Eindhoven, Netherlands (2003)
– Pixelache Montreal / Société des Arts Technologiques, Montreal, Canada (2003)
– SELFWARE Manipulated Identities festival, Graz, Austria (2003)
– Pixelache NYC / Gershwin Hotel Gallery, NYC, US (2003)
– Future News exhibition, Gallery 101, Ottawa, Canada (2003)
An 8 minutes long video excerpt from The Moment of Long Now has been screened at:
– Kansk International Film Festival in Siberia (2002)
– Eartours event at CCA in Glasgow (2002)

MORE INFORMATION

Juha Huuskonen – juhuu (at) juhuu.nu – www.juhuu.nu